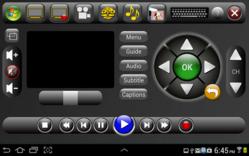 The Touchpad is extremely responsive with speedy controls, excellent for use as a dedicated mouse for any PC/Laptop. Bonus eye-candy feature is the HTPC remote control, thus saving money on 3 devices, keyboard, mouse and remote.
North Vancouver, BC (PRWEB) November 29, 2012
Touchsquid announces the release of its Media PC Remote Keyboard Mouse App on the Amazon Appstore. Kindle fans will be happy to save their hard-earned dollars with this app which replaces three devices, the wireless keyboard, mouse and a remote.
Technology innovations such as high-powered home computers, digital media and high definition televisions give rise to the Home Theater PC (HTPC) or PC Media Center. By definition, a HTPC or PC Media Center is a convergence device that combines the capabilities of a personal computer with a software application. With a Media PC, one can watch, record and pause live TV; browse the internet, access PC library of movies, music and games, play DVDs and CDs on TV.
There are wireless keyboard and mouse that can be used to control the Media PC, however, they tend to be big and cumbersome for use while watching TV from the bed or couch. A Kindle tablet on the other hand is just the right size and fits nicely between the two hands.
The app is designed for consumers who like to watch movies and TV shows on their Media PC or HTPC using apps like Windows Media Center, XBMC and Netflix. With this app, one can control their PC using the Kindle tablet by using it as a wireless keyboard and mouse eliminating the need for purchase a separate keyboard/mouse device.
Media PC Keyboard Mouse app provides a large track pad area, pop-up keyboard for text, and the extra keys that windows has but Android lacks. There is even a Windows Media Center button!
Bonus feature is a Windows Media Center Remote screen, with all the shortcut assigned to buttons with appropriate icons. This is in addition to the mouse control and keyboard access. Simply touch the little remote icon to access this feature.
Works with non-English keyboards, using Unicode.
About Amazon: Amazon's own Android tablet called the Kindle Fire, relies solely on the Amazon Appstore for its marketplace. The store's "Test Drive" feature allows users to try an application in their web browser by launching a virtual copy of Android in the Amazon EC2 cloud for half an hour. The Amazon Appstore is available in the US and in many European countries including the UK, Germany, France, Italy and Spain.
About Touchsquid Technology Inc.
Located in Canada. Its flagship product is the TouchSquid all-in-one infrared tv remote control. The company has also developed a number of Android Apps, the most notable being the TouchSquid Remote Control App, for use with generic tablets in combination with an external IR blaster device.