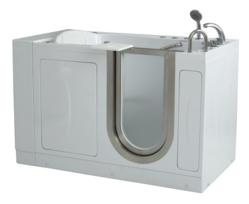 We're really excited to announce our plans of this new showroom. We will be displaying the top hydrotherapy walk in bathtubs on the market.
Denver, CO (PRWEB) November 28, 2012
Aging Safely Baths officially announces that it plans to open a new retail showroom in Denver, Colorado during the first quarter of 2013. Aging Safely is a leading supplier of walk in bathtubs, handicap showers, and bathroom fixtures that provide mobility impaired individuals with the ability to bathe safely. The spacious showroom will enable purchasers to view different lines of walk in tubs firsthand while they learn about features and make comparisons.
Zach Wennstedt, CEO of Aging Safely Baths, said, "Many of our customers love the convenience of online showrooms, especially if they have limited mobility that makes it difficult to travel. Nevertheless, some customers may not have technology or prefer to view walk in bathtubs or showers in a showroom before choosing a walk in bathroom fixture."
Aging Safely sales staff will invite patrons to try opening walk in shower and walk in bathtub doors to determine which model or brand is most comfortable for their use. Additionally, customers can practice using a grab bar to lower themselves into a walk in tub or walk in hydrotherapy bathtub. They can also practice entering and exiting the walk in bathtubs and showers. They can observe different sizes of walk in tubs or roll in showers, so they feel confident about their selection.
Although customers can learn about the many therapeutic benefits of hydrotherapy tubs online, some customers may prefer to get information about hydrotherapy tubs, walk in tubs, and handicap showers in the showroom. Aging Safely's sales staff can answer questions and make recommendations. Additionally, information will be available to help customers decide whether they prefer hydrotherapy water or air jets to potentially help alleviate pain, reduce inflammation, and promote blood circulation.
Aging Safely's staff will offer on-site consultations, review existing bathroom plans, and make suggestions based on budgets, needs, and customers' preferences. They can also arrange delivery and installation for every transfer bath, handicap shower, or other bathroom fixture that promotes safe bathing. Staff will also assist shoppers in personalizing senior bathtubs and other walk in bathroom fixtures with a particular tub color or a special order grab bar style. Customers can also browse catalogs of hydrotherapy tubs, walk in showers, and wheelchair accessible showers that are not on display. In addition, staff can advise customers about specialized features, such as lifts, that may be appropriate for certain mobility impaired individuals.
This spacious showroom will offer one of the finest selections of walk in bathroom fixtures that promote safe bathing. Customers will enjoy convenient on-site parking and unsurpassed customer service. Whether customers need a walk in tub, roll in shower, walk in hydrotherapy bathtub or a wheelchair accessible shower, customers will be able to enjoy one stop shopping that offers an array of choices and convenience.
Contact Information:
Zachary Wennstedt
Toll Free 1-888-779-BATH(2284)
info(at)agingsafelybaths(dot)com