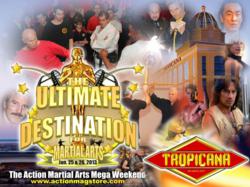 Worlds largest martial arts event of it kind
Atlantic City, NJ (PRWEB) November 29, 2012
Action Martial Arts Magazine, Expo / Trade Show , Seminars and Hall of Honors Announces the 13th Annual Martial Arts Mega Weekend.
Once again on Jan 25 & 26, 2013 at the World Famous Tropicana Casino & Resort in Atlantic City N.J. The world's largest gathering of Martial Arts and M.M.A. Superstars, Film, Combat Celebrities, and renowned Masters from around the world .One Weekend with 8 Events. Thousands from around the globe will gather to meet, greet and share with one another.
There is something for everyone.
Join us for a 2 day Trade show and expo with over 75 health and martial arts suppliers. There will be over 30 Celebrity autograph and photo booths. We have 50 free seminars with training from the best of the best. There will also be a Martial Arts Business Forum, where school owners can join free classes on how to make there school and business run more successfully. There will also be a Martial Arts Casting Call and auditions. For those who want to compete or watch others compete, there will be a full Martial Arts Tournament produced and a MMA Point Tournament
On Friday Night in the main Show room, R.O.C. PRO MMA Show will be Presented by Master Louis Neglia Ring of Combat http://www.ringofcombat.com
We will top off the weekend with one of the largest gala Banquets in Atlantic City with the world's largest assembly of celebrities, champions, suppliers and movers and shakers in martial arts industry along with thousands of attendees. This event is nicknamed "The Academy Awards of Martial Arts" and offers a friendly and exciting weekend for all. Martial Arts Grandmasters, MMA Champions, Wrestling, and TV and silver screen the stars, all under one roof.
The safest place in the world on January 25 & 26, 2013 is at The Tropicana Casino and Resort Atlantic City, New Jersey.
For more information go to http://www.ActionMagStore.com or call Alan Goldberg at 718-856-8070 or email him at actionma4(at)gmail(dot)com.