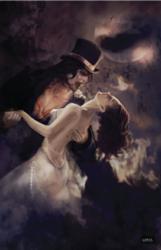 Toronto, Ontario (PRWEB) November 29, 2012
Double Dragon Publishing is releasing the epic Alamptria 1: Bloodstone Crypt in May 2013 with a new title and an expanded story. With its high-flying adventure, intense action, love affairs and the shadow of death lurking beneath it all, the grand adventure in the mythological land of Elysium and vampire-ridden Plaphorius play out amid surprise and suspense.
Far away in a land beyond the fog; in the fifteenth century, good finds itself at war with evil. The Seatons, knights gifted with amazing powers, endeavor to wipe out the dark Lord Makoor and his vampire legions. With Grongone the wizard's help, the knights work to achieve their people's freedom. But when vampires infiltrate the city of Koriston, and the princess Melina Hampshire is kidnapped by the evil Tyrus Clore and brought to Plaphorius to marry into the vampire cult, the Seatons' faith in overcoming these dark forces is shaken. Only Caprius Seaton and his two brothers along with the Elysian army can save their kingdom, and the entire human race, from extinction.
Originally titled Alamptria: Red Moon Rising, the novel won the 2011 Buzzillions Reviewers Choice Award and garnered a large following. Reviewers of the book note Richard Valicek's ability to join intelligent themes with exciting action and characters:
This vibrant and exotic tale is just what the doctor ordered for those in need of a literary fantasy-world treatment. The author doesn't skimp on character development or action details; so, wimps beware. You will mentally duck, sway, jump and soar your way through this 15th century epic tale of good versus evil. It's a story you can really get into with both feet. Be sure to guard your neck with a spiked collar. By Prosaic (Dallas) Amazon.com.
Once you're acquainted with the players, locales and races in this intriguing book, you'll feel right at home as a fantasy fan. It is accessible to fans of other genres as well, as the author does a fine job of pulling you into his world. Political intrigue between factions, interesting characters and magical weapons. All of these are standard fantasy fair, but the approach and life that is breathed into the world by Valicek is equal to any of the current favored authors of Fantasy fiction.
To write this book off just because it happens to have supernatural characters like vampires would be a great dis-service to a well rounded and exciting foray into an unforgettable realm. By Richard Davis (Dallas) Amazon.com.
"This feels like a Tolkien book with many creatures a mind could not fathom their existence. Valicek is great with imagery and setting and I look forward to more in books in this series." (Rebecca Gal, Amazon.com)
Richard A. Valicek has a certificate in the Liberal Studies Program from George Brown College, where he also received a diploma in Graphic Design. He lives in Toronto, Canada.
Alamptria 1: Bloodstone Crypt will be released in early 2013 Double Dragon Publishing. The book will be available at thousands of retailers nationwide both in stores as a trade paperback and online for the Ibook, Nook, Kindle, and Epub.
For more information about Alamptria 1: Bloodstone Crypt, please visit http://www.alamptria.com or contact the author by phone at 416-570-5655.