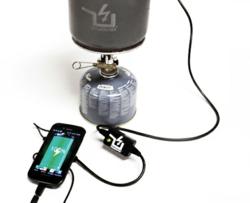 Since the PowerPot goes direct to USB it works great as both an iPhone charger and Android charger.
Salt Lake City, Utah (PRWEB) November 28, 2012
In the wake of Hurricane Sandy, where power outages affected millions, a new device lets people charge their phones on a stove or fire. Its called The PowerPot and its a perfect gift for those in need of a little peace of mind. The ingenious product converts heat directly into electricity and works with any fuel source, including propane and wood. While operating the PowerPot requires more attention than solar panels, it has clear advantages: it works at night, in bad weather and indoors. This versatility makes it a surefire backup for charging critical devices like phones, GPS units and two-way radios. Plus it gives you an excuse to make a cup of tea!
For those worried about power outages due to disasters such as hurricanes, tornadoes, winter storms and earthquakes, the PowerPot is an ideal way to guarantee power to charge a cell phone when its needed most. Weighing in at less than a pound, the PowerPot is super-portable. It can hide in a backpack on an extended journey, or in a 'bug out bag' at home for emergencies. Its both water and fire-resistant, making it compatible for use on open wood fires, propane stoves and even a geothermal hot spring!
After Hurricane Sandy millions of Americans went without power, some for several days. With blackouts from New York City to Washington DC, many people crowded in to charge their phones at the few places that did have electricity. Not so for John Stephens, who used his PowerPot to charge his family's cell phones during the disaster. "Since the PowerPot goes direct to USB it works great as both an iPhone charger and Android charger. We're a house with many types of phones but in a way it was like the power didn't go out at all."
The PowerPot was introduced earlier this year by Power Practical after being crowdfunded on Kickstarter.com, a funding platform for creative projects. During the campaign, backers were able to pre-order PowerPot units or donate one to people in developing nations. The Salt Lake City startup says it has sold over 1,200 units to consumers in over 30 countries. It has also launched a development program for placing more than 100 donated units in countries such as Uganda, Ghana, India and Bangladesh. The units are given to groups of people who own cell phones but live off-grid.
The PowerPot fits perfectly into many people's cooking routine, providing power from heat that would otherwise be wasted. Boiling water in the PowerPot is safe and easy. The hot water can be used to prepare hot drinks such as coffee, tea or hot cocoa. It can also be used to prepare soups, freeze-dried foods or MREs.
Power Practical has launched a new website (http://www.thepowerpot.com) to sell the PowerPot and educate people about thermoelectric technology. The PowerPot lists at $149 (USD) but during the holiday season is on sell for $139.