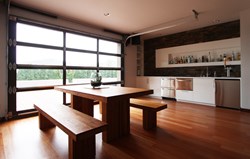 "Basement remodeling is a smart way to add space and utility to a house without expanding its footprint," said Sam Hagerman, co-owner and president of Hammer And Hand. "It can totally transform the experience of your home."
Seattle, WA (PRWEB) November 29, 2012
Portland and Seattle remodeling contractor Hammer And Hand announced today the publication of a new portfolio of basement remodeling projects that shows the power of basement conversions to transform homes and boost value. The portfolio of six basement remodels ranges from a simple bathroom addition to a full accessory dwelling unit conversion.
"Basement remodeling is a smart way to add space and utility to a house without expanding its footprint," said Sam Hagerman, co-owner and president of Hammer And Hand. "It can totally transform the experience of your home."
The new portfolio of basement conversions also demonstrates the varied ways that basement remodeling can help a home evolve. No two projects featured by the portfolio are alike.
"One of the beauties of basement conversions is their versatility," Hagerman said. "And while underway, basement remodels open up a great opportunity to upgrade a home's systems and shore up structural integrity."
The portfolio of basement remodels showcases:
Twin Studios – Accessory Dwelling Unit basement conversion, designed by Departure Design.
936 House – Basement addition of spa/sauna retreat, designed by bright designlab and client.
Wintler Park Remodel – New space for entertaining, bath addition, designed by bright designlab.
NW District Remodel – Expanded space for family, designed by of Alice Design.
View-Master House – Guest quarters and guest kitchen, designed by Celeste Lewis Architecture.
Grant Park Foursquare – Modernist utility room and bathroom, designed by Atelier Waechter.
"We're lucky enough to collaborate with talented designers on all our projects," said Hagerman, "and it's the give and take between client, independent designer, and builder that really makes remodels sing."
More about basement remodels by Portland and Seattle remodeling contractor Hammer And Hand can be found online at http://hammerandhand.com/residential-remodel_basement-conversions.
ABOUT HAMMER AND HAND
With offices in Portland and Seattle, builder and remodeler Hammer And Hand is dedicated to stewardship of the built environment through craft and science, everything from traditional home remodels to commercial tenant improvements to modernist high performance structures.
Hammer And Hand - Portland: 1020 Southeast Harrison Street, Portland, OR 97214-4709 | (503) 232-2447
Hammer And Hand - Seattle: 1501 E Madison St #250, Seattle, WA 98122 | (206) 397-0558