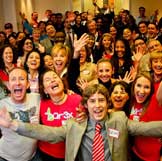 Grow your business the smart way - by helping others first.
(PRWEB) November 29, 2012
Brian Mac Mahon and Nina Steiner from Your Office Agent had the vision to create the largest free Pay It Forward Event in the State and possibly the country with 300 business people gathering in one place on one evening to help each other on December 11, 2012. Barbara Sprenger from Satellite Telework Centers then made the event a reality by clearing out an entire shopping mall and arranging the logistics and much of the back-end work to make it happen. Then, the Santa Monica Chamber of Commerce and SCORE offered to help. From there, one by one, local businesses offered their help to make this potentially the most impactful business event of the year.
Here is what will happen on December 11th. Over 300 business people will arrive at the venue, after each person commits online to bringing a physical or emotional gift. This is not a barter event and no value is attached to anything that is brought, only the thought behind the gift. For example, LA Fitness are giving 5 gym memberships for 5 months each & several hours of 1 to 1 training; a student looking for a job will offer some tutoring help and a local entrepreneur will offer some business guidance. Which has more value? It depends on what the person receiving the gift wants. It's all about helping your fellow business and the whole being stronger than the individual parts. So far, there are 250 people registered within 5 days of opening it up to the public. It's going to be the biggest business Pay It Forward party that has ever taken place in Santa Monica for sure -- and one that could not be done without Barbara and her whole Satellite team, who have embraced this as their own mission. It's date of December 11th is between Thanksgiving and Christmas and after an election in which the only thing all political parties agreed on was that the only people who could help us are US. It will not cost one dime to put together and every company coming will either gift products, solutions, great advice or empathy to the other companies coming. We have everyone from industry giants, Starbucks (providing the coffee!) and the Microsoft Store to the home-based entrepreneur who is starting out. Entry to the event is totally free and not based on wealth, status or looks. It's based on the purity of what you want to help your business community with.
Brian Mac Mahon said that the event is being promoted by the Business Growth Network and Companies Changing Lives organization to really drive home to local businesses that by paying it forward there is a financial return, as well as an emotional one. This concept becomes stronger -- and with a better ROI -- than any other form of marketing spend if the long term outcome is truly measured. Brian and Barbara both stated that the whole DNA of their companies, Your Office Agent and Satellite Telework Centers, is community giving, so this is a natural event for them. The Pay It Forward organizations' head honcho, Charley Johnson, just had one word for the event: "Awesome." Everyone who comes will get a Pay It Forward bracelet, so the nature of the evening is fully embraced.
There are still some tickets available so don't miss this amazing free Holiday Party at the best venue on Main Street, Santa Monica. It's the Don't Miss, Once a Year, Pay It Forward party for Santa Monica. Leaving aside just how great everyone will feel helping other businesses, and being helped by them, it will be an amazing networking event filled with great, giving people. The detail is in the flyer, but it's not only an amazing evening with free entry, free food outside and a beautiful venue, but it's also Christmas come early with 300 businesses coming to gift a service, product or just good advice and to receive the product or service that they need. No catch, no money changes hands: just true collaboration in action. That's it.
This is the EventBrite registration.
http://businessgrowthnetwork.eventbrite.com
This is the Flyer with the details
http://www.yourofficeagent.com/events/silicon-beach.pdf
This is the Facebook page where the value of the business that will come from this will be measured
http://www.facebook.com/CompaniesChangingLives
The hope of both Your Office Agent and Satellite is that others can take inspiration and base their business plans on this way of working. For any questions contact Brian on 310-745-9580 or Nina 310-487-2982 or by email on contact(at)yourofficeagent.com.