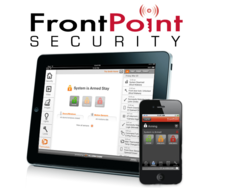 ...FrontPoint Security won the prestigious Angie's List Super Service Award...
Chicago, IL (PRWEB) November 28, 2012
Top security reviewer HomeSecuritySytemsHQ has declared FrontPoint Security as the most effective home security company of the current decade. According to HomeSecuritySystems HQ, home security consumer reports clearly establish FrontPoint Security as the ultimate choice for anyone looking to protect their home. The full review can be found here. Provided below is a run-down of FrontPoint's outstanding features:
Customer Service
FrontPoint Security won the prestigious Angie's List Super Service Award for outstanding customer service in 2010. FrontPoint Security representatives respond quickly to any inquiry and work efficiently to correct any problem a customer may have.
Online Reviews
FrontPoint's commitment to customer service has produced superior results. Customers are extremely satisfied with the service they receive. The overall customer satisfaction is the primary reason for the 5-Star rating given to FrontPoint Security by the online customer review site, Yelp. It is also why FrontPoint has an "A" rating from Better Business Bureau.
Cellular Monitoring & Wireless Equipment
FrontPoint includes cutting edge cellular monitoring from Alarm.com and wireless equipment from GE Security as standard parts of all security bundles. Customers can both arm and disarm their security systems from their cellular phones. They can also get immediate text alerts and monitor their property from live videos.
30 Day Trial
All customers are provided a 30-day money back guarantee. The low return/unscribe rates enjoyed by FrontPoint prove this option is rarely used.
Free Environmental Monitoring
Professional environmental monitoring to safeguard property against fire, smoke, carbon monoxide and flooding is provided at no cost to the customer.
Free Shipping by FEDEX
FrontPoint will ship the product free of charge on the same day it is ordered. Customers can also take advantage of an expedited option.
Smash & Crash Technology
FrontPoint's GE Security control panel, the Simon XT, features a trademarked technology called Smash & Crash. This adds an extra layer of stability to the system in cases associated with a breach of the property. Any attempt to damage the control panel unit results in an immediate alarm being sent to law enforcement agencies and monitoring stations.
Contact
Please feel free to obatin your instant quote here. It only takes a few seconds for FrontPoint's support team to respond. Or call them directly at (866) 363 2035.