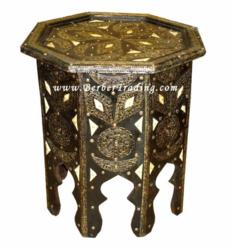 Home owners who are planning to remodel their homes will also be delighted with the Moroccan floor tiles and Moroccan lamps which will bring a rich cultural feel to any room
Miami, Florida (PRWEB) November 30, 2012
Berber Trading has been busy adding new products to their website to cater to the holiday shopping crowd. The company recently had a Thanksgiving and Black Friday sale offering numerous discounts on their authentic Moroccan products. Consumers taking advantage of the sale were busy browsing and ordering gifts for the coming Christmas season from the company's site.
The company's new range of Moroccan doors, lamps, pillows, cushions and lighting could also be seen in their new 6000 square feet warehouse and showroom located in Miami, Florida. The impressive showroom contains a huge collection of Moroccan furniture and home furnishings.
First time visitors may be overwhelmed with the gorgeous colorful combination of Moroccan lighting, furniture, doors, fabrics, mirrors, vases, coffee tables, poufs, etc. All the products are handmade by skillful artisans using high quality materials. The company owners are constantly on the look out for classical items as well as the latest trends in Moroccan designs.
According to a company spokesperson, Berber Trading's recent growth has helped enhanced their diversification power allowing the company to import and distribute more unique home furnishings to their customers from all over the world. The company's range of products reflect the rich mixture of Berber, Arab, Spanish and French heritage designs.
Recently, one of the company's client called David Barton Miami Gym and Spa had their entire premise furnished and decorated completely with Moroccan products from Berber Trading. These included Moroccan opium beds, daybeds, benches, love seats, tables, wool rugs, Moroccan architectural columns, décor, lighting, Moroccan lamps, sconces, candle holders, Moroccan mirrors, cushions, canopies, tents, Moroccan leather poufs and ottomans. This was mentioned in a feature article in The Interior Design magazine.
Customers who are interested to see a mixture of both antique, traditional and modern will be pleased with the wide range that is offered by Berber Trading. From colorful Moroccan poufs, cushions and canopy to detailed wood panel carvings and Moroccan ceramics. Home owners who are planning to remodel their homes will also be delighted with the Moroccan floor tiles and Moroccan lamps which will bring a rich cultural feel to any room.
Top ecommerce solution, InstanteStore powers the online shopping experience for the company.
Berber Trading Designs is one of the largest North American importers of Moroccan products. For more information, please visit http://www.BerberTrading.com or visit the actual showroom in 2622 North Miami Avenue, 33127 Miami, Florida (Monday to Saturday from 11.00am – 6.00pm EST). To contact the company, please send them an email or call 305-572-0118.