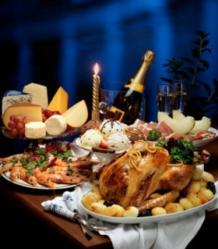 Dieting over Christmas is impossible. It is difficult to avoid these lovely foods on such a special occasion.
(PRWEB UK) 29 November 2012
Christmas is great for spending time with loved ones, exchanging gifts and indulging in sweets, snacks and calorie-laden dinners.
However, a survey conducted by Differ Diets, analysing different people's diets over the Christmas period, shows that it is possible to pile on over half a stone in just 2 days.
Healthy breakfast favourites of porridge, nuts and seeds and fruits are only consumed by 8% of participants on Christmas Day. The most common on Boxing Day is a full English breakfast.
However, the most damaging and fat-packing meals are the snacks. On average individuals consume 5 snacks on Christmas Day and Boxing Day. The most popular being chocolates, sweets, deserts and cheese. Five of these snacks can pack on a whopping 1,400 calories, over half of somebody's daily allowance, not forgetting a huge number of saturated fats and simple carbohydrates.
And not forgetting Christmas dinner itself, often with all the trimmings- pork and bacon rolls, beers and wines, fatty gravy and a general lack of vegetables. On average, a person can consume nearly 2,000 calories, just at dinner!
So it comes as no surprise then that, over the two days, many consume up to 8,000 calories. More damaging in terms of health is the high proportion of saturated fats, unhealthy carbohydrates and a lack of fibre and water.
Jayne Beach, a participant in the survey, commented that "…dieting over Christmas is impossible. It is difficult to avoid these lovely foods on such a special occasion."
The scenario is even worse amongst young families, with some parents allowing their little loved ones to eat five chocolate bars on Christmas Day alone.
Leyton Daniels, a father of one, reflected upon this, saying "how can you refuse your children sweets on Christmas Day? I only allow this for a special occasion."
Unfortunately many parents are unaware of the fact that this huge increase in food intake can prove damaging to a child's health in the long run, both physically and mentally.
Out of the 600 participants sampled nationwide, it was found that just over 90% would commit to an extreme diet just to lose this weight over a short period of time. The most commonly cited diet is a juicing diet due to the attention that it receives from celebrity endorsements.
Tim Allan, marketing executive at Differ Diets, commented on the findings of the study:
"It is shocking to hear that some children consume nearly 3,000 calories on one day. Also it's crazy to think that many people over-indulge over the festive period, with the plan of going on a ridiculous weight loss program in the New Year, already in mind. Juice diets and other unsustainable methods of weight loss should not be people's first port of call."