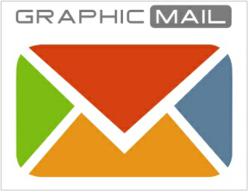 77% of Americans aged 15 and older preferred receiving email marketing messages in 2012
Geneva, Switzerland (PRWEB) November 29, 2012
In today's economy it is immensely important for businesses to understand their target audience and adapt to the specific needs of the consumer, or the client in a B2B environment. Marketing budgets for email marketing have been increased by many companies this year. Matt McGee of Marketing Land states that a whopping 77% of Americans aged 15 and older preferred receiving email marketing messages in 2012, up from 72% in previous years and according to the Direct Marketing Association, firms made an average of $40 for every dollar spent on email marketing in 2011; a figure that cannot be ignored.
GraphicMail understands that not all businesses are the same and that it is not just corporates that rely on email marketing to get their message across. This is why their bulk email marketing solutions offer personalized email marketing packages specifically designed to accommodate the needs of different organizations.
6 core market segments that will benefit from GraphicMail's email marketing
Email marketing is a great way to promote targeted business offers. Email is also a great tool to cultivate relationships with individual clients by effectively communicating with them. With flexible pricing options and the ability to manage social media presence it has never been easier to extend a business' reach.
Scheduled reports show exactly who opened the email and what they looked at and with great customizable newsletter templates it is easy to create promotional emails.
A Spam checker will scan all emails and provide information on what chance they have of arriving at a clients' Inbox.
A corporation needs absolute flexibility and solutions that can change and adapt as quickly and organically as it does. This is why GraphicMail's bulk email marketing solutions can be tailored to suit specific needs.
Users will have the ability to create and manage multiple accounts, while being able to import corporate contacts and accounts; converging all bulk email activity into a manageable system.
Businesses tend to build up a large network of contacts and key role players, but staying connected to everyone can be a challenge. Connect + by GraphicMail is a social content management system that allows collaboration on marketing communications across staff, departments and branches.
To non-profit organizations, GraphicMail offers free email marketing campaigns; so they can continue improving the lives of others.
Small clubs and associations stand to benefit from email marketing packages as well, with the free bulk emailing solutions ideal for smaller operations. This still allows them to manage their social media presence while staying in touch with the people who matter most.
Even affiliated members will benefit from their counterpart's GraphicMail account. As a member of the affiliate program, groups can market GraphicMail to their own networks and get a percentage based profit share from accounts signed. It's a win-win situation.
To companies that offer digital services, but don't have email marketing as an option yet; GraphicMail offers them email marketing services coupled with text message/ mobile marketing and social integration. Companies can resell the GraphicMail application as a self-managed tool to their clients or as a managed service by agencies. This package offers resellers:

A new source of revenue
Co-branded or fully branded options
Dedicated support
Marketing and help materials
Easy integration with API access
Pay as you grow - no volume commitments
Fully customizable client accounts
Tracking tools to justify ROI to your clients
Owning a franchise or chain can be an incredibly admin-intensive operation, which is why competitively priced email marketing support can help manage marketing activities while growing business.
GraphicMail offers a cost-effective means of utilising email and mobile marketing, so businesses can, well, get down to business; all the while maintaining effective growth. By teaming up with GraphicMail they are able to provide everyone in their chain or franchised network with a cost-effective and powerful email and mobile marketing solution.
Developers and those wanting to integrate with GraphicMail
Integrate seamlessly with GraphicMail using personal software applications or a 3rd party's. Use GraphicMail's API to leverage their experience in the email, social and mobile messaging arena to provide a top tier email service, ensuring excellent deliverability. Integrate with open source networks such as Joomla and Wordpress, or sync contact data with Outlook and oneSaas.
According to Ragan's PR Daily, there are 3.3 billion email accounts internationally and with more than 100 trillion emails sent a year it's easy to see why email marketing just keeps on growing. Bulk email marketing through GraphicMail offers users access to the world's leading tool for sharing information and reaching out to a specific target audience.