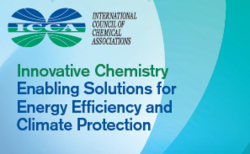 Chemistry plays a central role in climate mitigation both in terms of cost efficient reductions in energy consumption as well as providing technologies to decarbonise energy production, thus further reducing GHG emissions
DOHA, QATAR (PRWEB UK) 30 November 2012
At the 18th session of the Conference of the Parties to the United Nations Framework Convention on Climate Change (COP-18), the International Council of Chemical Associations (ICCA) will highlight the important role products from the global chemical industry play in achieving substantial energy and greenhouse gas (GHG) reductions for the buildings sector.
"Chemistry plays a central role in climate mitigation both in terms of cost efficient reductions in energy consumption as well as providing technologies to decarbonise energy production, thus further reducing GHG emissions," said Russel Mills, Global Director, Energy & Climate Change Policy, Dow Chemical Company, and Vice Chair of the ICCA Energy and Climate Leadership Group.
ICCA Launches Buildings Technology Roadmap
ICCA is completing work on several technology roadmaps that focus on the contributions of chemistry to energy efficiency and GHG emissions reductions. ICCA will launch its latest technology roadmap focused on buildings efficiency at its joint side event (see "Notes to editor" below) with the European Business Council for Sustainable Energy (e5) on December 7.
The roadmap explores the potential energy and GHG savings from five chemically-derived building technologies: insulation, pipe and pipe insulation, air sealing, reflective roof coatings and pigments, and windows. It estimates that combining ambitious building efficiency improvements with lower-carbon fuels could lead to a 41% reduction in energy use and a 70% reduction in GHG emissions by 2050.
"By the middle of this century , the cumulative net GHG savings in Europe, Japan and the United States from the use of chemically based building products could be 30 billion tonnes of CO2 equivalents (MtCO2e). This is an average annual savings of 600 MtCO2e – equivalent to the emissions from the annual electricity use of 75 million homes," Mills said.
Government Policy to Foster Innovation
World leaders at COP-18 should agree on policies that incentivise greater adoption of energy efficient products. In particular, improvements in building efficiency should receive greater focus in international political agendas and policy-making related to energy savings and GHG reductions.
Mills concluded: "Energy efficiency is the area where there is broadest consensus amongst all governments on the need for increased action. It's crucial that COP-18 supports this with concrete policy improvements and political commitments to expand best practices.
"The building sector offers the largest opportunity and the most substantive co-benefits including its positive impact on local jobs. The global chemical industry stands ready to support this effort."
Onsite Media Contact at COP-18:
James Pieper, Cefic, +32 491 27 43 61, jpi(at)cefic(dot)be
Additional Media Contact:
Jenny Heumann, ACC, +1 202 249 6520, jenny_heumann(at)americanchemistry(dot)com
Notes to editor:
1.) ICCA Side Event at COP-18
The ICCA, along with the European Business Council for Sustainable Energy (e5) will host a conference side event called "The Chemical Industry's Contribution to Building Energy Efficiency and GHG Reduction". The event will be held on Friday, December 7, 2012, from 13:15 until 14:45,UNFCCC COP-18, Qatar National Convention Centre, Side Event Room 2.
2.) About ICCA
The International Council of Chemical Associations (ICCA) is the worldwide voice of the chemical industry, a sector with 2011 turnover of nearly €3 trillion (excluding pharmaceuticals). ICCA's Responsible Care® members account for more than 90 percent of this total. The promotion and coordination of Responsible Care and safe chemicals management through the Global Product Strategy, international climate negotiations, government and business partnerships, regulatory affairs, stakeholder outreach, advocacy and communications are key areas of focus for the Council. For more information, visit the ICCA website at http://www.icca-chem.org.
ends / all