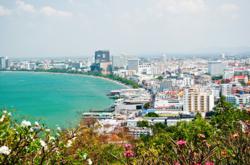 The Thai condo market is booming at the moment!
(PRWEB UK) 28 November 2012
Thailand's economy has proven extremely resistant against the global economic downturn, with an annual GDP growth almost unheard of today amongst the traditionally richer Western countries. Building on both its domestic and international market success over recent years, The Kingdom has committed to spending approximately US$72 billion on infrastructure projects over the next five years, to ensure Thailand remains competitive in the global marketplace.
Prime Minister Yingluck Shinawatra confirmed the spending programme earlier this year, highlighting the need to support the domestic market with a range of initiatives including the development of a system of rail networks in the North – the largest of which is a 750km line connecting Chaing Mai to Bangkok.
As the country continues to invest heavily internally, international investors are increasingly looking to the condominium market in the popular coastal resorts of Pattaya and Jomtien, either as a second home for their retirement or as an investment vehicle for their pension fund.
Patima Jeerapaet, Managing Director of Colliers International explains that the introduction of a wider range of entertainment facilities, retail outlets and eating establishments in the Pattaya area has led to the increase in its popularity, amongst both international visitors and Thai nationals alike.
Indeed, in their Pattaya City Condominium Market Report earlier this year, Colliers estimate that approximately 5,900 units will be completed in the latter six months of 2012, particularly in the Jomtien region, as the introduction of the new Jomtien Second Road, which has opened the region up to larger scale developments which are more appealing to the lower end of the market.
Specialist property investment companies such as Knight Knox International have long acknowledged the potential of these West Coast areas and have a wide range of developments available to investors from established Thai developers.
"The Thai condo market is booming at the moment", comments Lee Chettoe, Sales Manager at Knight Knox International. "The increase in demand for property, particularly in the Jomtien Beach and Pattaya regions, has led to us taking on an additional six new projects this year alone, all of which have been extremely well received by our investors".
Chettoe further comments "over the past 12 months we have also noticed that investors are broadening their horizons and starting to look more further afield than the traditionally popular regions in Pattaya, towards the more tranquil area of Bang Saray; either looking to retire or for a peaceful holiday destination, while only a short drive away from the main Pattaya resorts".
Having built up strong working relationships on-the-ground, Knight Knox International is ideally placed to offer exclusive deals to investors in some of the hottest developments on the market.
Laguna Beach Resort 3 – The Maldives
A seven building resort development of over 25,000sqm "The Maldives" brings a new resort experience to Pattaya real estate on an unprecedented scale. A seven-building resort only 750m from the beautiful Jomtien Beach, the launch of the final tower (building G) offers residents the option of owning a luxurious apartment with ocean or pool views from as little as £26,500*.
*Pre-launch offer ends on 1st December 2012
Abatalay Condominium
An eight-storey development comprised of 215 affordable 23sqm studio units, Abatalay Condominium is the epitome of luxury in the tranquil coastal resort of Jomtien Beach. Designed to the highest of specifications, residents can enjoy a wide range of high-end facilities including roof-top swimming pool with 270 degree ocean views and roof-top fitness centre.
From only £15,000 (foreign ownership), investors purchasing through Knight Knox International can take advantage of limited pre-launch prices and an exclusive free furniture pack worth up to £3,000.
The FeeLTure
Only a short walk from Jomtien Beach, this eight-storey, 301 unit development is spread over two buildings and has been designed as a close-knit community with a range of hotel-style facilities including secure key-card entry system, 24hr security and private parking.
The 6th project from an established Thai developer, these fully-furnished condominium apartments are offered for sale 100% freehold and are projected to earn investors 8%+ NET returns from as little as £29,000.
Knight Knox International
Specialists at selling property in Thailand for many years, Knight Knox International also has a wide range of developments available in the popular tourist locations of Koh Samui, Phuket, Krabi, Pattaya and Hua Hin.
To enquire about any of the projects featured in this article, or for further information on the full range of developments in Thailand available through Knight Knox International call +44 (0)161 772 1370.