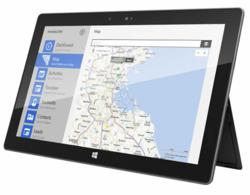 Resco Mobile CRM now allows Windows Surface users to be truly productive.
(PRWEB) November 30, 2012
Resco Mobile CRM, a mobile client for Microsoft Dynamics CRM, has been now optimized for Windows RT and is available at the Windows Store. As anticipated, it does bring the full functionality: online/offline mode, dashboards, enabled customizations, photo capturing, and every other feature the users are accustomed to.
As the company claims, Resco's job is to make the experience with Mobile CRM the best it can be for each platform. And that's what they did with this update. Be it Microsoft Surface and other tablets or smartphones, Resco's solution is ready to go. Microsoft Dynamics CRM is already powerful software by itself, but with its mobile counterpart from Resco it changes into an all-powerful business tool.
The free download of Mobile CRM app is now available at the Windows Store http://apps.microsoft.com/webpdp/en-US/app/mobile-crm/f5701def-b79c-4133-af37-ff51a050bad9#
About Resco Mobile CRM
Resco Mobile CRM for Microsoft Dynamics CRM is an online/offline mobile client for iPhone/iPad, Android, Android Tablet, Windows Phone, Win CE and Windows 7/XP/Vista/8/RT. The application supports features such as custom entities, interactive maps, GPS tracking, photo capturing, dashboards, and many more.
The solution is fully customizable through easy-to-use configurator tool (Woodford), or with the use of a comprehensive .NET based developer platform that provides unlimited customization possibilities (Studio). Its technology leadership has been proven by adding the support of HTML5 and JavaScript, allowing extending the mobile CRM application by the means of web technologies.
For more information visit: http://www.resco.net/mobilecrm/
About Resco
Resco was founded in 1999. The company is one of the global leaders in developing cross-platform mobile software solutions. The team of Resco professionals passes on their knowledge of mobile device technology by designing products for corporate customers, developers, integrators and end users. The purpose? Optimizing work and improving productivity.
For more information visit: http://www.resco.net