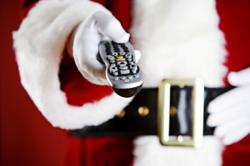 Christmas and January present rare opportunities for TV advertisers to reach viewers who are normally very hard to come by
London (PRWEB UK) 29 November 2012
"Making hay" in January
Savvy TV advertisers make hay in January, reveals The DRTV Centre. And yes, it is because of the weather. Not because it is sunny though, but precisely because it is often dull, raining or snowing and generally pretty miserable. This leads to a different audience composition and increased viewing levels. In January 2012, for example, the average number of hours viewed per week was over 30 – compared with an average of a little less than 26 hours per week in September 2012.
In parallel there is a reduction in activity from traditional TV advertisers like fast-moving consumer good and cars during the early weeks of the New Year.
TV media costs respond accordingly. The combined effect is that in January the ITV "average price per thousand adult viewers" is about 20% cheaper than the annual average.
So, in a nutshell, larger audiences and reduced revenues create flexibility and media value opportunities during January.
"Making hay" over Christmas
The period just before Christmas, and the week after Christmas show very unusual television viewing patterns too.
Advertising agencies recognise that December is traditionally a two-tier TV advertising month. The first three weeks are the peak shopping period and demand for TV time is always very high. However much retail advertising activity finishes the week prior to Xmas, the bulk of present purchases having been made – so because demand goes down, average station prices have to respond in a downwards direction too, in order for the TV stations to sell all their TV time. Prices vary by broadcaster but can be 20% cheaper in the week before Christmas than during the first three weeks of December.
Still in December, but immediately after Christmas, audiences are very different from normal. People who would otherwise be at work, or at least be out of the home doing something else, are pleased to relax in front of the TV. Programming is more unusual, less conventional, because of the holiday period. The net result is a higher proportion of more upmarket people (ABC1s) viewing, and also more younger adults. These are normally quite hard-to-reach audiences, so this period can offer golden opportunities to specific advertisers.
David Pearson of The DRTV Centre comments: "The period after Christmas – and indeed the few days immediately prior, after 21 December – has a significantly unusual and variable television audience composition from normal, and the TV viewing habits are different too. So this period presents rare opportunities for TV advertisers to reach viewers who are normally very hard to come by. And January historically offers cheaper advertising than in any other month.
Special thanks to our friends at All Response Media for their help in preparing this report".
Company details of The DRTV Centre:

The DRTV Centre was founded 15 years ago in London.
It is the first and only advertising agency in the UK to concentrate on Direct Response Television.
The agency provides everything clients need to mount successful, profitable TV campaigns: marketing strategies, concept creation, scriptwriting, storyboards, research, casting, location search, film/video production, music, voice-overs, transmission copies, channel selection, TV airtime booking and campaign response analysis.
For further information, visit The DRTV Centre website or call David Pearson on 0800 635 9000.