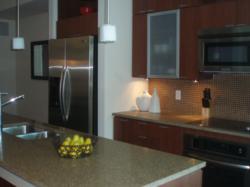 I am very pleased to be working with a devoted team of professionals.
Tampa, FL (PRWEB) November 30, 2012
Since joining Avenida Suites, Tim has assumed the title of President, North America. Tim began his hospitality career in the hotel industry with The Residence Inn in the 1980's and then started his own corporate housing company in St. Louis in the early 1990's. Tim expanded into other markets in the Midwest and South and created the industry's first franchise system. Tim gathered industry leaders in the early 1990's and together they founded the first trade association, which is now known as the Corporate Housing Providers Association (CHPA). Tim brings with him many years of operational experience, best practices and systems as well as valuable technology that are integral to the core foundation of providing a "best in class" global corporate housing company.
"It is great to be back in the business working with Dan and Claudia. I am very pleased to be working with a devoted team of experts on a mission to build and grow a "Best in Class" international temporary housing /serviced apartment business."
Mr. Duggan's primary roles will include refining processes and procedures, implementing new technology he has spent years developing, and continue to build upon Avenida's tremendous success over the past 5 years. He will also be responsible for growth and operations in the North American market segment.
"Tim's addition to our company is a testament to our strength as a brand and our vision to be the best in class provider of temporary housing services in each market we serve. The experience and tools he brings with him will enable us to move into markets such as Brazil and other areas of South America where traditional corporate housing is really non-existent," says Avenida's founder and president, Dan Gorman.
"It has been a dream of mine to return to my native country of Brazil, and now that Tim has joined as a partner and has taken over our U.S. operations, Dan I have the freedom to make that dream become reality," says Claudia, co-founder and vice-president.
Avenida Suites is proud to say that our corporate housing and serviced apartments serve customers across many sectors who are looking for cost effective "Best in Class" temporary accommodations throughout the U.S. and Brazil.
About Avenida Suites
Avenida Suites is a rapidly growing provider of corporate housing and serviced apartments with head-quarters in Tampa, Florida and Sao Paulo, Brazil. Avenida Suites continues to expand its reach and capability opening new offices in locations around the U.S. and South America. Each temporary home within our portfolio is carefully chosen for its location, size, condition, amenities, and many other factors. Beyond offering the right place to stay, Avenida systematically manages each phase of the temporary housing process to ensure it is simple, responsive and flawless across every market we serve. Avenida's temporary housing is available for stays of 30 days or longer. For more information on how Avenida Suites may be able to help you or your company with temporary housing or serviced apartment needs in the United States or Brazil call 1-888-553-9943 for U.S needs or 55-11-3958-8733 for Brazil or visit either website at http://www.avenidasuites.com or http://www.avenidasuitesbrazil.com.