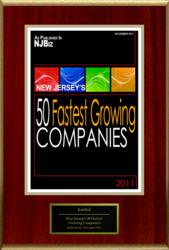 "It speaks to so many wonderful generations of business people staying focused on one thing; keeping our client's interests our first priority."
Somerville, NJ (PRWEB) November 29, 2012
Dancker, Sellew & Douglas (DS&D), a regional building interiors firm focused on pharmaceutical, education and healthcare laboratory environments, received recognition for ranking #47 for New Jersey's 2012 50 Fastest Growing Companies. The NJBIZ 50 Fastest Growing Companies awards program celebrates New Jersey's most dynamic companies who progressively contribute to the success of the state's economic growth and stability. To qualify, companies had to meet selection criteria that included significant growth in revenue over a four year period, dating from fiscal year 2008 to 2011. The honorees have been highlighted in a special supplement to NJBIZ on November 19, 2012.
In addition to the November award, DS&D has also been placed in the Top 600 Specialty Contractors list for Engineering News-Record (widely known as ENR). DS&D ranked #447 for their volume of work in the New York, New Jersey, Pennsylvania, Delaware, Maryland and Washington, D.C area. ENR annually ranks the largest contractors and design firms in the U.S. and internationally. Engineering News-Record compiles and publishes these rankings based on gross revenues.
These two recent awards serve as further recognition of DS&D's performance in 2012. Earlier in the year, DS&D was recognized in the NJBIZ Top 100 Privately Held Companies and was recognized for its' position as the Oldest Privately Held Company in the State, with 183 years in business.
"We are extremely proud of our incredibly long history", affirmed Steve Lang, President and CEO of DS&D, "It speaks to so many wonderful generations of business people staying focused on one thing; keeping our client's interests our first priority."
Continuing to reflect on the performance of the company in 2012, Lang emphasized DS&D's long history and commitment to constantly adapt to the changing needs of clients, "It is this mandate that brought us here and will keep DS&D successful, well in to the future". DS&D is proud of their inclusion in the NJBIZ lists and ENR list this year and will continue to call on their vast experience to help illuminate the path of their established and expanding business.
###
DS&D is an interior solutions firm offering a broad range of products including furniture for corporate, healthcare and education applications, architectural walls, lab casework and equipment— as well as valuable services including logistics, laboratory and office planning and in-house installation. With locations in over five states throughout the Northeast and Mid-Atlantic regions, the company's success is based on helping its customers create workplaces that build their business, reflect their brand and support their culture.