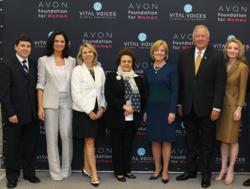 Brasilia, Brazil (PRWEB) November 28, 2012
The Avon Foundation for Women, Brazil's Avon Institute and Vital Voices today launched the second global summit of the Global Partnership to End Violence Against Women, one of the foremost initiatives leveraging multi-disciplinary, international alliances to address violence against women. The summit takes place at the start of the United Nations' 16 Days of Activism against Gender Violence and includes two days of Global Partnership delegate panels and deliberations, plus a public day that will convene more than 100 leading global human rights defenders, nongovernmental organizations (NGOs), legal scholars, business professionals, civil society advocates, and representatives from the U.S. Department of State, to exchange perspectives and experiences to build practical, sustainable solutions to ending violence against women.
The opening forum featured remarks from U.S. Ambassador Thomas Shannon, Brazilian Minister of Women's Policy Eleonora Menicucci, Chairman and CEO of Avon Products, Inc. Sheri S. McCoy and President and CEO of Vital Voices Alyse Nelson and Avon Institute Ambassador Luiza Brunet.
"There has been a consolidation of the efforts to fight violence against women in Brazil, and that has been reinforced by the fact that we have elected our first woman President," says Minister Eleonora Menicucci. "We have legal instruments such as the Maria da Penha Law, known by more than 90% of the Brazilian population, and recognized internationally as one of the most advanced anti-violence laws; the 180 hotline that has received more than 2.7 million calls, and only recently helped dismantle a gang responsible for the exploitation of women in Spain; and the network of women's police stations – while the existing number of police stations specialized in serving women is not large enough for the more than 5,500 municipalities in Brazil, we are committed to expanding the network, and have plans to do it."
This is the first time the Summit takes place in Brazil, a country that stands out for its determination to fight domestic violence: this is a fundamental point in Brazilian public policies. Dilma Rousseff, the first woman to be President of Brazil, and Minister Eleonora Menicucci are leading efforts to strengthen the structures to fight violence against women and to disseminate information among all Brazilian women. Avon Institute, the NGO that coordinates Avon's social actions in Brazil, has cooperated decisively in this regard, supporting projects all over Brazil, disseminating information among Avon Representatives, and also funding surveys on this theme. "We found Representatives who are experiencing this drama, and who now begin to understand they can transform their lives and help other women break the circle of violence," comments Lírio Cipriani, Executive Director of Avon Institute. "This meeting in Brazil is a welcome boost to a movement that is bringing in new partners and spreading out more and more."
The Global Partnership Summit drew international experts who are leading efforts to prevent and respond to the most pervasive forms of violence against women – domestic violence, sexual assault, and human trafficking. These leaders are as diverse as Brazilian women's advocate Maria da Penha Fernandes, whose name was given to the most important law on domestic violence in Brazil, Jordanian Supreme Court Judge Mohammad Tarawneh, Indian Minister for Social Welfare in Kerala Dr. M. K. Muneer, and Russian NGO leader Anastasiya Ermolaeva. Delegates will participate in interactive panel sessions, working groups and best practice discussions to share innovative solutions to reducing violence against women and plan their country priorities and strategies.
The three-day summit is the latest project of the Global Partnership to End Violence Against Women, a collaboration of multi-disciplinary experts in domestic violence, sexual assault, and human trafficking from around the globe that launched in 2010 as a cross-sector partnership among Vital Voices Global Partnership, the United States Department of State, and Avon and the Avon Foundation for Women, which funded the creation of the Global Partnership.
"As the company for women, Avon is committed to ending the epidemic of violence against women and girls around the world. I am confident that the Second Global Summit will give participants innovative and compelling insights to further their work to break the cycle of violence for future generations," said Avon CEO Sheri McCoy. McCoy also announced the Avon Foundation will award $100,000 to the most innovative project ideas that emerge from the summit's deliberations.
The Global Partnership – the only global collaboration to end violence against women of its kind – has resulted in the transfer of knowledge, solutions, and successful programs among issues, between disciplines and around the world. Since its launch, experts in the Czech Republic completed a study on the economic costs of domestic violence based on a similar U.S. study; NGO leaders in Liberia are establishing a sexual assault care center after visiting the Thuthuzela Care Centers in South Africa; and delegates from Jordan opened a co-located domestic violence service center modeled after centers in the United States and Mexico. Through the power of collaboration, partnership members are creating a safer world for our mothers, daughters, sisters, and friends. The Global Partnership has supported regional conferences in New Delhi, India; Cape Town, South Africa; and Buenos Aires, Argentina. The Partnership has also supported advocacy campaigns, a mentorship program for global women's rights leaders, and grants for the most promising delegate projects.
"To create a world where women and girls are safe from violence and exploitation, we need to align human rights defenders, politicians, the business world and diplomatic community around practical solutions. The Global Partnership to End Violence Against Women is supporting leaders with solutions, and we are proud to be here in Brasilia for this important summit to foster further collaboration among delegates," said President and CEO of Vital Voices Alyse Nelson.
About Avon Global Philanthropy:
Avon is a global corporate leader in philanthropy focused solely on causes that matter most to women. Through 2012 Avon global philanthropy, led by the U.S.-based Avon Foundation for Women, has donated more than $910 million in more than 50 countries for causes most important to women. Avon's funding is focused on breast cancer research and access to care through the Avon Breast Cancer Crusade, and efforts to reduce domestic and gender violence through its Speak Out Against Domestic Violence program. The company's global markets sell special products to raise funds for breast cancer and domestic violence, conduct hundreds of events that raise funds and awareness for these causes, and provide critical life-saving information to women everywhere through it global army of more than 6 million Avon Representatives. Visit http://www.avonfoundation.org to learn more.
About Avon Institute:
Established in 2003, Avon Institute is the non-governmental organization that coordinates Avon's social actions in Brazil within the scope of the company's global campaigns promoting women's health, self-achievement, empowerment and development. In Brazil, the Institute has donated more than US$ 11.5 million to 78 projects and actions supporting research and extending health care in breast cancer through the Avon against Breast Cancer campaign, and to other projects to end violence against women, through its campaign called Fale sem Medo – não à violência doméstica (Speak Out Against Domestic Violence). The funds raised were used in a number of actions, such as four new Centers for Early Detection of Breast Cancer in Barretos (SP), Jundiaí (SP), Salvador (BA) and Porto Alegre (RS), as well as to projects and surveys focused on ending domestic violence and promoting a culture of peace. Visit http://www.institutoavon.org.br to learn more.
About Vital Voices Global Partnership:
Vital Voices Global Partnership is a leading non-governmental organization that identifies, invests in and brings visibility to extraordinary women around the world by unleashing their leadership potential to transform lives and accelerate peace and prosperity in their communities. Founded by U.S. Secretary of State Hillary Clinton in 1997, the organization trains and mentors women leaders as agents of transformative change in economic development, human rights and political participation. The Vital Voices Global Leadership Network includes more than 12,000 leaders representing 144 countries who have trained and mentored 500,000 additional women and girls in their communities. Visit http://www.vitalvoices.org to learn more.
###