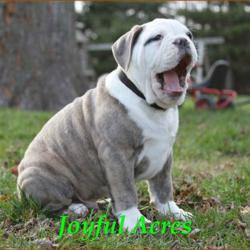 We produce some of the finest bullies in America and are able to show this with the pictures that we take. With the current website, it's a much better platform to display the pictures
Waterloo, IA (PRWEB) November 29, 2012
Joyful Acres Bulldogs, a family who have been raising and breeding bulldogs for over 10 years, has three new litters of bulldog puppies for sale now up on their newly designed website, Joyfulacresbulldogs.com. These bully pups are available just in time for Christmas.
Joyful Acres breeders Shawn and Bethany Bram are proud to not only show off their new bulldog puppies for sale, but also the new multi-page site, which is brighter, easier to navigate, and loaded with tons of information. For people looking for a new puppy for the holiday, the Puppies' page has what's available, with tons of high-resolution photos of some of the cutest bulldog puppies in America.
Joyful Acres is excited about the site's responsive design, so prospective bulldog owners can view the new puppies on any device.
"It's compatible with all the mobile devices, which was one of the objectives," Shawn said. "This works on Apple platforms, Androids, notebook, the Kindle Fire and more. What we noticed with our old website was that a good majority of people that were calling were using a mobile device to look at the dogs, and they couldn't view them correctly. I used to get calls about that all the time."
Bram said visual aesthetics of the site will be even more beneficial, because it's what usually makes clients want to purchase their English bulldog puppies in the first place.
"Our pups sell because of the quality of our dogs and our ability to accurately showcase this with our pictures," Bram said. "We produce some of the finest bullies in America and are able to show this with the pictures that we take. With the current website, it's a much better platform to display the pictures. If I can get people to the website, and they can look at the pictures of the parents and the pups, I know they are going to want one."
All of the Joyful Acres puppies, including its new litters, are registered with the world's premier Olde English Bulldogge registry, The International Olde English Bulldogge Association. The Bram family has been involved with showing their bulldogges and Shawn is a certified IOEBA Senior Judge. The Bulldogges are a hobby that the whole Bram family enjoys.
Joyful Acres Bulldogs offers reasonable shipping to anywhere in the United States and each puppy comes with a limited warranty.
About Joyful Acres Bulldogs and joyfulacresbulldogs.com: Joyful Acres Bulldogs is an Olde English Bulldogge breeder located in Waterloo, Iowa, breeding beautiful and purebred registered bulldogges. These cute and playful pups make great family companions and can be shipped anywhere in the United States. For more information on Joyful Acres, and to view amazing pictures of their puppies, visit http://www.joyfulacresbulldogs.com/.