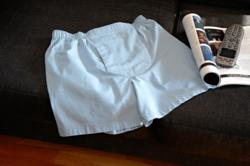 Columbia, SC (PRWEB) November 29, 2012
Ubatuba boxer short sales have soared to new heights, thanks to the astute shopper looking for the best pair of boxer shorts available on the market today. Our customers want comfort and functionality in their boxer shorts. That is why repeat sales are also up.
Most customers enjoy the 100% soft cotton that comforts the skin. The much appreciated off-center fly allows the wearer to comfortably walk around the house without the worry of "peak a boo", while the small inside pocket is great for tissues or even a great place to hide money. Maybe it is the triple front panel that prevents any after restroom embarrassing spots on the wearers trousers.
There are many reasons for Ubatuba becoming a favorite among boxer shorts wearers.
What is yours?