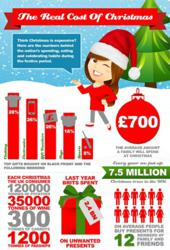 (PRWEB UK) 28 November 2012
In the midst of tough economic times and rising gas and electricity bills, many are concerned about the expensive month of December. The new infographic created by Dosh Express reveals that the average family will spend approximately £700 in total. Furthermore the UK collectively spends £1.6 billion on Christmas food each year. This is made up of some 120,000 potatoes, 10 million turkeys and 25 million Christmas puddings.
Aside from food and drink, the infographic shows that a great deal of our budget is taken up through buying presents. The average person buys for 12 friends and family members, with 33% claiming their most expensive present will be for a child.
A representative from Dosh Express explains the best ways to make savings.
"Whilst Christmas wouldn't be the same without the odd mince pie, there are simple ways to save money this year. Our infographic shows that a staggering £2.4billion was spent last year on unwanted presents. Buying more personal or homemade gifts can save people a considerable amount of cash. It's also worth shopping around to get the best deals with companies fighting between themselves for your business."
Despite the current financial situation for many, a reported 20% will spend even more this year than they did last year.
Dosh Express is the Honest Lender, helping you get to payday. Based in Derby, in the Midlands, the company's mission is to provide a great lending service to thousands of our happy customers and be a great place of employment for our staff. Please visit doshexpress.com to apply for a loan, and if you are approved cash is usually deposited in your account within minutes, subject to status. Dosh Express, the trading name of Dosh Express Limited, is a consumer lender offering short-term payday loans, is a member of the Consumer Credit Trade Association (CCTA), and is licenced and regulated by the Office of Fair Trading.