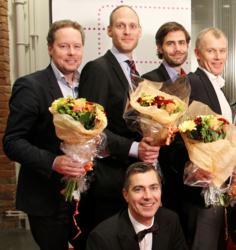 Stockholm (PRWEB UK) 30 November 2012
Cloudmore, a leading Cloud Service provider operating in Europe, proudly announces it has been awarded the prestigious Smarter Business Partner of the Year from IBM. Niklas Hogset, VP Products accepted the award during the Business Partner Session, November 22nd.
The 2012 Smarter Business Partner of the Year award recognises Cloudmore for delivering a solution that provides centralised management of services, users and billing through partners, enabling customers to quickly, become effective users.
"We are truly pleased to receive this award that recognises the vision and commitment of our team," said Michael Wicander, Cloudmore CEO. "It is tremendously exciting time for us to be a strategic IBM partner."
Cloudmore quickly enables all types of organisations to benefit from Cloud Services by providing a route for their existing IT providers to offer them a complete suite of Cloud Services, to meet their changing needs. There are many emerging channels that are looking for a way to leverage the Cloud opportunity and Cloudmore provides a complete solution for them to be successful.
The 2013 research and development plan sets out the expansion of the Cloudmore portfolio, which includes more IBM products for integration, to ensure Cloudmore continues to provide IT solutions that are powerful, intuitive yet simple to buy, manage and own.
About Cloudmore
Cloudmore, headquartered in Stockholm, enables companies and organizations to smooth the transition to the cloud. Cloudmore was founded in 2004, went to market in 2007, and employs 21 people with a presence in Sweden, Finland, Norway, UK, and Ireland. Currently, over 5000 organizations readily use Cloudmore's proprietary IT management platform along with help, training, and support.
Cloudmore removes the barriers for end-user businesses to adopt efficient cloud-based IT models and simplify commercial deployment from market-leading vendors and service providers by aggregating services and making them available through a wide network of trusted advisors to the end customers. For more information visit the Cloudmore website: http://www.cloudmore.com.