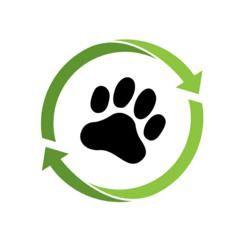 We are just taking an old idea and making it better.
Boonsboro, MD (PRWEB) November 30, 2012
The small town green pet company near the Appalachian Trail, Ruff Again, recently announced the upcoming release of yet another earth-friendly product that recycles the everyday sandwich baggie - a dog travel bowl. On Monday, December 3, 2012, Ruff Again will offer "a different type of travel bowl," states owner Amy Rounceville. "The Ruff Again dog travel bowl will be lightweight and will not be bulky because there is no liner." Amy further explains that the bowl, which will be made from recycled seatbelt and nylon webbing and will include similar designs to match its recycled dog collars and dog leashes, allows dog owners to easily and conveniently do some recycling on their own by saving and reusing an item that is thrown away on almost a daily basis - sandwich baggies - as a disposable liner.
"Here Ruff Again we understand that most people want to be green and environmentally friendly. We also understand that the busy parent who has 2 kids, 2 dogs, a full time job, and half-a-million things to do sometimes sacrifices being environmentally friendly for convenience . . . like putting snacks in a sandwich baggie, which ultimately gets thrown in the trash." states Amy. "Unfortunately, many of the dog travel bowls available on the market are either very flimsy and tear or come apart, or the more durable versions are so bulky that it simply is not convenient to carry one around all of the time." Amy goes on to explain that the Ruff Again dog travel bowl will be lightweight, streamlined, and fully functional.
The idea is simple. Many dog owners can confess that on at least one occasion they have used an old sandwich bag or grocery bag as an impromptu dog bowl. And, anyone who has done so can attest to the fact that it's not the best solution because the baggies collapse and fall over. "We are just taking an old idea and making it better. The Ruff Again travel bowl will be self-standing and will not collapse," explains Amy. "And, because it is made out of recycled seatbelts and nylon webbing, it will be very durable and very re-useable, in addition to encouraging recycling."
Of course, Ruff Again still needs to decide upon a name for their bowl. To solve that dilemma they are having a contest on their Facebook page. Just "Like" Ruff Again on Facebook and check out the details of the contest.
Ruff Again is a green and eco-friendly pet company based in Boonsboro, Maryland. Founded by Amy Rounceville and Heath Gibson, the pair offer recycled dog collars, leashes and other pet products made with recycled and reclaimed material.