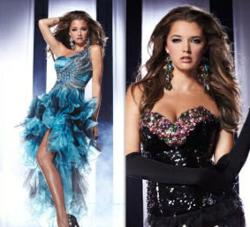 Gorgeous, fashion-forward gowns by Tiffany Designs, Panoply, Hannah S, and Studio17
Fort Myers, Fl (PRWEB) November 28, 2012
Tiffany Designs prom dresses will be on display during an exciting Trunk Show event in your area! Short and sweet or long and elegant, sophistication is the theme this prom season, with designs gaining inspiration looking to celebrity events and Hollywood red carpets. Gorgeous, fashion-forward gowns by Tiffany Designs, Panoply, Hannah S, and Studio17 will be presented at the following authorized retailer locations in January:
The Wedding Parlour (Grand Rapids, MN)
Brides & Beyond (St. Henry, OH)
Irresistible Elegance (Andrews, SC)
Terry Costa (Dallas, TX)
Brides 'N Belles (Aberdeen, SD)
Brittany's (Gallipolis, OH)
Kiser Apparel (Bridgeport, MI)
Featuring such current trends as multi-tiered, layered skirts; ruffled or sheath; metallics and sequins; and reds, dark blues, and purples, Tiffany Designs Spring 2013 prom collections are adaptable to the young woman's unique personal style for her prom or special event. For prom trunk show event times, dates, and appointments, contact the Tiffany Designs retailer named above.
Visit Tiffany Design to explore the glamorous collection of prom dresses 2013.