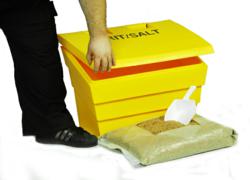 Retford UK (PRWEB UK) 29 November 2012
Homeowners in the UK are being urged to be prepared for a significant drop in temperatures over the next few weeks, with predictions of temperatures being well below seasonal averages. The areas immediately around households, such as garden paths, driveways, patios and paved areas are commonly overlooked during the winter months, which often leads to accidents and reduced levels of access on foot and by car.
With the aid of some basic winter safety equipment, the impact of ice and snow around the home can be greatly reduced
GritBins.net are one of the largest online retailers of grit bins, salt spreaders & rock salt in the UK.
Their range of grit bins include mini grit bins which are ideal for domestic use. Their compact dimensions mean that minimal storage space is required. They also come in a number of different styles and colours to complement their surroundings. Lockable grit bins are available to secure rock salt either with integrated locks or external padlocks.
Salt spreaders make spreading grit or rock salt much easier and GritBins.net have an option for every budget and application. Their range includes hand powered spreaders which are designed for small scale spreading of grit and rock salt on garden paths or driveways.
Rock salt and de-icer solutions are an essential part of an effective winter safety plan around the home. They can quickly melt snow and ice to provide a safe environment in treated areas. Their range includes non-corrosive solutions which are not harmful to humans, animals or plants allowing spreading in areas near wildlife and foliage.
For more details and to order online visit: http://www.gritbins.net or call their experienced sales team on 0800 0337084