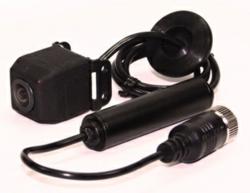 The VLC gives an unbeatable 170 degree view...
Byron Center, Michigan (PRWEB) November 29, 2012
PRO-VISION® Video Systems announced today that the VLC Series™ Super-Wide-Angle Camera will be upgraded to include a fully waterproofed processing chip. This makes the VLC Series™ camera the final PRO-VISION back-up camera to become IP69-K rated for waterproofing. "The VLC gives an unbeatable 170 degree view and has the smallest housing of all PRO-VISION cameras," said Engineering Manager Matt Lehnert. PRO-VISION's lineup includes box-style night-vision cameras, a flush-mounted Body/Bumper™ Camera, patented marker light replacing cameras, and rugged side mounting cameras that together with the VLC Series™ Super-Wide-Angle Camera, allow the company to cater to any rear vision need.
The VLC Series™ camera allows drivers to see a much wider area on their monitors than most competitor cameras. Originally used for recording the back seat inside law enforcement vehicles, the benefits as a rear vision camera were quickly apparent and complete waterproofing became a clear objective.
About PRO-VISION –
In 2003, PRO-VISION was incorporated and started by supplying back-up camera systems. 2005 marked their entry into the School Bus market. By 2009, PRO-VISION had entered the Commercial Recording System market, released 4 Camera School Bus Systems, and allowed for Live Video Viewing and Video File Transfer. By 2011, the company had expanded into a 240% larger facility and entered the law enforcement recording system market. The company has expanded to the international market selling systems into countries such as South Africa, Great Britain, Australia, Mexico, and Brazil, to name a few. PRO-VISION is ranked in the top 100 manufacturing firms on the Inc. 5000 list of fastest-growing private companies in America for 2012, and also earned a spot on the list in 2011.