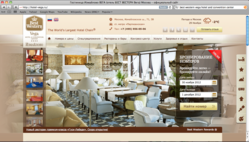 Top quality comfort, value and convenience"
London, UK (PRWEB UK) 30 November 2012
Set in Ismalovo, one of the most scenic parts of Moscow, the BEST WESTERN Vega Hotel & Convention Center offers affordable value to visitors and business travellers alike. Providing modern facilities with good service, the hotel has been highly recommended by Trip Advisor customers.
The newly launched BEST WESTERN Vega Hotel website design is aimed at satisfying the needs of customers by helping them discover the hotel and find out about special offers.
The website features Trip Advisor current reviews and ratings, enabling travellers to make the right decision before booking. Trip Advisor guests highly recommend the BEST WESTERN Vega hotel as "value for money": http://en.hotel-vega.ru/
"Great hotel option in Moscow"
"Finding a hotel in Moscow which has a decent price/value ratio can be a challenge. The Best Western Vega hotel is a very large hotel conveniently located only 5 minutes from the Partizanska metro station, with good internet access and an outstanding breakfast room" shared Trothportland form Portland, US.
"Top quality comfort, value and convenience"
"Stayed in the Best Western Vega for a 5 night city break I had booked independently. I received attentive and professional service throughout with Reception and Concierge delivering excellent customer service" wrote Emeraldval from Yorkshire, UK.
"Ideally located for exploring moscow"
"Friendly hotel with all amenities to be expected of a Best Western establishment. Friendly and helpful staff and rooms very comfortable. Nearby market, park and shopping centre and a two minute walk to the Metro Station make this an ideal base for exploring Moscow" wrote Andy S. from Chatham, UK.
Since its launch the new website is already generating traffic and seems to be more appealing to travellers. Its user friendly layout clearly communicates what BEST WESTERN Vega Hotel has to offer and represents solid brand of 4 star contemporary hotels.
For more information please visit the new website http://en.hotel-vega.ru/ or call +44(0) 207 985 1249.