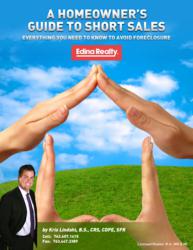 On November 20, 2012 The National Association of Attorneys General sent Congress a letter signed by 49 attorney generals written to urge congress to pass legislation to extend tax relief
Blaine, MN (PRWEB) November 29, 2012
"On November 20, 2012 The National Association of Attorneys General sent Congress a letter signed by 49 attorney generals written to urge congress to pass legislation to extend tax relief for citizens who have mortgage debt canceled or forgiven because of financial hardships," Kris Lindahl, the experienced short sale agent, said. "This is an enormous step to extending the 2007 Mortgage Debt Relief Act. I see this as a very promising and momentous occasion."
"For homeowners around the nation that are not sure whether a short sale is the right option for their home I created the Short Sale Calculator website that they can use to check if their home is eligible for a short sale," explains Kris Lindahl, the #1 Edina Realty short sale Agent. "They can fill out the form on the website and will get access to a real-time PDF with all of the information they will need to make an informed decision about the short sale of their home," says the experienced short sale agent Kris Lindahl.
Kris Lindahl understands homeowners only have a short time left to get their short sale loans approved before the end of the year or it could cost them tens of thousands of extra dollars in taxes. Kris Lindahl explains, "Without the 2007 Mortgage Debt Relief Act extension homeowners across the country who do not get their short sale loan through the short sale process before the end of December 2012 could owe the IRS tens of thousands of dollars in taxes from the income on the short sale of their home."
"I published a short sale e-Book to help people answer short sale questions," Kris Lindahl explains. The e-Book, titled "A Homeowner's Guide To Short Sales", a complimentary download, can be found at HomeOwnersGuideToShortSales.com. "Many people from around the country have downloaded the e-Book and are watching the videos in the Short Sale Video series I recently released," Kris Lindahl explains.
Call the experienced Regions Bank Short Sale Agent at the new national short sale hotline (763) 447-3925 for short sale information. Visit the new Minnesota Short Sale Calculator to check short sale eligibility.