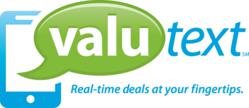 This now gives ValuText shopping center operators and their retailers the ability to track how many offers are redeemed by customers.
Atlanta, GA (PRWEB) November 29, 2012
ValuText LLC today announced the integration of iPhone's Passbook support with the ValuText® offers program. ValuText is a location-based, mobile marketing program that utilizes geo-fence technology to deliver real-time and location-specific offers to opted-in consumers when they are at a participating shopping center. The integration of Passbook functionality further enhances the convenience and benefits of ValuText by allowing iPhone users the ability to manage offers within the Passbook application as well as helping retailers better track redemption.
ValuText sends opted-in users an SMS message containing an offer from a participating retailer when they are within a geo-fenced location. The SMS message includes a link to a mobile website displaying ALL offers active at their location. For iPhone users, each offer will have an option to be saved to Passbook.
Passbook was recently introduced with the launch of iOS6 and serves as a digital-wallet app that comes pre-installed on new iPhone and iPod Touch devices. The application is designed to store items someone might typically carry in a wallet such as loyalty cards, coupons, deals, tickets, boarding passes, etc. and make them instantly available at the tap of a button. Passbook is triggered by location and time of pass and can be updated by the pass provider or user. Currently, iOS6 is already installed on more than 200 million iPhones across the globe.
"The integration of Passbook services with ValuText is a natural fit," said Michael Zeto, CEO of Proximus. "This added feature now gives ValuText shopping center operators and its' retailers the ability to track how many offers are saved to Passbook as well as which offers are redeemed by customers. Additionally, it adds value for the opted-in ValuText consumers allowing them to easily manage their favorite offers."
ValuText joins an impressive group of major retailers and service industry providers such as Starbucks, American Airlines and Target that have adopted early integration with Passbook. The application is the latest digital advancement to help simplify the lives of an increasingly mobile and paperless society. Passbook allows consumers to check in for a flight, get into a movie and redeem coupons, including ValuText offers from the convenience of an iPhone in a matter of seconds.
Contact: Michael Zeto
CEO Proximus Mobility, LLC
404-477-3311
mzeto (at) proximusmobility (dot) com