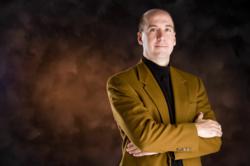 Although many of the predictions are humorous in nature, the idea behind each one is serious.
San Francisco, CA (PRWEB) November 29, 2012
Popular and provocative keynote speaker, best-selling author and renowned global futurist Jack Uldrich has released his annual list of predictions for 2013. Included on this year's list are: the first heart "a-hack" victim, a "home-colleged" billionaire, driverless chafeuffer services, 21st century shop classes, digital graffiti, life-long textbooks, drone deliveries, spotless ketchup bottles and a Facebook credit card ... among other things..
"The scenarios—which are quite specific—are not intend to be taken literally," said Uldrich, the best-selling author of "Foresight 20/20: A Futurist Explores the Trends Transforming Tomorrow" and "Higher Unlearning: 39 Post-Requisite Lessons for Achieving a Successful Future." "However, the technology underlying each scenario must be taken seriously. Each prediction is intended to provoke the reader's thinking and help them better understand how many of today's technology trends will continue to transform the world around them." Continued Uldrich, "the list is also designed to be useful for corporations and organizations involved in strategic planning. To this end, the predictions often show the positive as well as the negative implications of the various technological transformations."
In the past year, Uldrich—who also recently released his report on 25 Questions for the Truly Innovative Organization, has addressed and consulted with scores of major corporations and associations including IBM, United Healthcare, PepsiCo, Southern Company, Cisco, Wipro, General Electric, and numerous healthcare associations, including chapters in Maryland, Maine, Mississippi, Tennessee and Utah.
.
Parties interested in learning more about Jack Uldrich, his books, his daily blogs or his speaking availability are encouraged to visit his website. Media wishing to interview Mr. Uldrich can contact him at 612.267.1212 or jack(at)schoolofunlearning(dot)com.
Uldrich is a renowned global futurist, best-selling author, editor of the monthly newsletter, The Exponential Executive, and the host of the award-winning website, http://www.jumpthecurve.net. He is currently represented by a number of professional speakers bureaus, including Executive Speakers Bureau and Leading Authorities. His predictions for the past year can be viewed here.