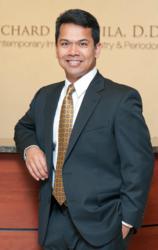 Jacksonville, FL (PRWEB) November 28, 2012
Dr. Richard E. Aguila of Contemporary Implant Dentistry & Periodontics eradicates periodontal disease with the new Laser Assisted New Attachment Procedure. This laser protocol has been cleared by the FDA for use in dental procedures and provides the Jacksonville periodontist with a precise and selective tool for fighting gum disease.
The PerioLase MVP-7 laser is designed to kill the bacteria and remove only the diseased gum tissue, leaving healthy gums and teeth intact. In addition, LANAP helps to attach that healthy tissue to the teeth so that it can heal properly. This reduces the incidence of receding gums and greatly improves the recovery time. Many patients go back to their normal level of activity the same day following the procedure.
Periodontal disease is present in the mouths of millions of Americans across the country. Many of these people do not seek treatment. However, in addition to the dental problems that it causes, gum disease has been linked to other health complications such as heart disease, diabetes, low birth-weight babies and so forth. Although in its early stages it may only seem to be an inconvenience, it is a health risk that should be addressed as soon as possible.
Traditional treatments for gum disease have required the use of a scalpel to cut away the diseased gum tissue and sutures to hold the gums in place for proper healing. With the new LANAP procedure, the minimally invasive laser eliminates the tissue without the need for a scalpel. Jacksonville periodontist, Dr. Aguila, has trained and certified on this procedure that is only available from about one percent of dental professionals. Patients from across the state are being treated at Contemporary Implant Dentistry& Periodontics with this innovative treatment. To learn more about periodontal disease and the LANAP treatment, visit http://www.laseranddentalimplants.com.
Richard E. Aguila, D.D.S is a periodontist offering patients personalized dental care for Jacksonville, FL since 2010. Dr. Aguila received his Bachelors of Arts degree in Chemistry and Doctor of Dental Surgery from West Virginia University. He completed a hospital-based General Practice Residency at the Naval Medical Center- San Diego. He practiced general dentistry in the Navy for six years before pursuing his specialty training in periodontics and dental implant surgery at the Medical University of South Carolina. During this time he obtained his Certificate in Periodontics and Masters in Health Sciences with honors. Dr. Aguila has been practicing periodontics and dental implant surgery exclusively since 2001. He is part of one percent of dental professionals providing the most recent FDA cleared laser procedure for gum disease and periodontal treatment. To learn more about Richard E. Aguila, D.D.S and his dental services visit his website at http://www.laseranddentalimplants.com and call (904) 638-7980.