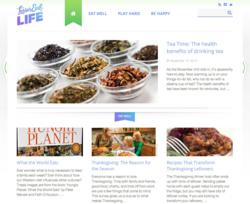 "When planning the site redesign, we focused more on the readability and end user experience for our readers,"
Wilton, CT (PRWEB) November 28, 2012
LesserEvil Healthy Brands Co., a snack food company based out of Connecticut, unveiled the redesign of their sister website LesserEvilLife.com. LesserEvilLife is a blog created to inform and inspire LesserEvil fans to make healthier choices. A crisper look, less clutter, and easier navigation is intended to improve how readers experience the content.
"When planning the site redesign, we focused more on the readability and end user experience for our readers," said Serg Chernata, LesserEvil's Vice President of Technology. Chernata work closely with the blog's chief editor, fitness and nutrition author Kellie Davis, to ensure the revamped communication vehicle matched well with the heart and mission of LesserEvil.
"I've been a part of this project since its inception and think the transformation will bring LesserEvil one step closer to their mission of helping people live positively through small lifestyle changes," said Davis. "Through this blog the LesserEvil family is able to convey micro lessons on how to live a happier, healthier, more active life, and I am grateful to be a part of this process."
The new LesserEvilLife design reduced the amount of searchable categories to just three: Eat Well, Play Hard, and Be Happy. "If LesserEvil had a motto, this would be it. Life is complicated, and if our readers take away one of these three lessons from our content then we did our job," said Davis.
With over 200 published articles on the blog, readers can learn about nutrition, exercise, happiness, life hacks, and much more. LesserEvil also publishes guest posts from fans about their own life experiences, and contributions from nutrition and fitness experts.
About LesserEvil
LesserEvil Healthy Brands, founded in 2004 and headquartered in Wilton, CT, provides snack products in the health food sector. Their products include Krinkle Sticks, Kettlecorn, Chia Pop, and Chia Crisps. Partnered with Autism Speaks, LesserEvil donates ten-percent of its profits to Autism Awareness.