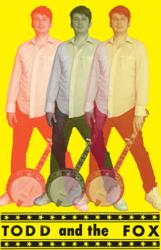 Santa Fe, NM (PRWEB) November 28, 2012
Todd Eric Lovato, the musician behind such award-winning acts as Felonious Groove Foundation, Skinnyfat and Fantastic Planet, is back with the self-titled debut album release of his most recent solo effort, Todd and the Fox. The roots-rock duo, which blends banjo, guitar, drums and pulsing electronic bass lines, has recently returned from a whirlwind tour through South Korea where it first made its album available. The album release celebration takes place Nov. 30, at Tiny's Restaurant and Lounge. Doors open at 8 p.m. Music starts around 8:30 p.m. There is no cover charge. This event is featured on the SantaFe.com event calendar.
The Nov. 30 release party features a jam-packed night of music from Todd and the Fox and Cali Shaw, Lovato's closest musical collaborator and Penguino Records label mate. Health permitting, the night will also feature the traditional folk music of Mansi Kern, Todd's grandmother and the former leader of the Festival Folk Ensemble music and dance troupe.
Most recently, Lovato and Shaw took home top honors, along with a handful of other awards, at November's 48 Hour Music Video Project in Albuquerque: Shaw's video took first place; Lovato's video took best runner up.
Todd and the Fox is made up of Lovato on banjo, guitar, bass pedals, Ableton Live and Erik Sawyer on drums. A founder of the funk outfit Felonious Groove Foundation, Lovato formed Todd and the Fox in 2011 as a way to further explore minimalist songwriting, especially on his banjo, the instrument that informs most of the songs on the new album. The reception was warm and instantaneous and the quickly band earned profiles in local and state press (SF Reporter, NM Magazine), performances at SXSW 2012, a sponsored invitation to represent the U.S. in the 2012 ICCN Festival in South Korea and opening performances for such national acts as Black Joe Lewis and the Honeybears, Oakhurst and Gregory Alan Isakov. Lovato now performs with Todd and the Fox exclusively.
(Watch a Todd and the Fox performance on Steven Michael Quezada's "The After, After Party")
(Learn more about Todd and the Fox on its ReverbNation page, Facebook, Twitter and official website)
The full-length Todd and the Fox album was produced by Lovato over the course of two years, mixed and mastered by Andrew Click, tracked by Jono Manson and features guest appearances by Lumpy (Bryan Highhill) and Española's The Imperial Rooster. Lovato has earned five New Mexico Music Industry Awards during his time with Felonious Groove Foundation, Fantastic Planet and Skinnyfat.
For more information, please contact:
todd(at)toddandthefox(dot)com
505-480-3865
About SantaFe.com:
SantaFe.com provides locals and visitors to Santa Fe alike the most current interactive platform for events, music, arts, business, dining and lifestyle. SantaFe.com is a division of Hutton Broadcasting, located at 2502 C. Camino Entrada, Santa Fe, NM 87507
Contact Information:
Scott Hutton
SantaFe.com / Hutton Broadcasting
http://www.santafe.com
(505) 471-1067 (Media inquiries only, please)