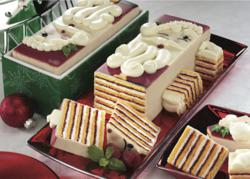 Desserts are made in small batches with Wisconsin butter, real cream, whole eggs, high quality chocolate and cocoa.
Monroe, Wisconsin (PRWEB) November 29, 2012
Toys may top gift lists every year, but food is a practical Christmas gift. Chocolates, cheeses and bakery delights can be given and used throughout the holiday season. The Swiss Colony bakery uses local ingredients to make their festive, fresh products a favorite at family gatherings and parties with co-workers and friends.
At swisscolony.com there are more than 165 products under $25 and over 110 items between $25 - $50, which offers gift givers a lot of budget-friendly options.
This year, a wide range of Gluten-Free desserts have been added along with the popular Sugar-Free line so everyone can indulge a little. Plus, a Double Guarantee on seven of the company's most sought after gifts is a sweet deal (Butter Toffee, Christmas Fruit Cake, Christmas Petits Fours, Masterpiece Baked Ham, Baby Swiss, Incredible Spreadables, and Mixed Nuts).
One of the company's top sellers is handcrafted Butter Toffee. Made in fire-heated copper kettles, local butter, sugar and crushed almonds are turned into golden toffee that is so dreamy that the Wisconsin State Fair has awarded it their Seal of Excellence. Each piece is hand-packed in gift sampler boxes, gift tins from one pound up to three pounds, or available in a mini bite-sized version (prices range from $16.96 - $49.95).
And then there's fruit cake. Typically at the receiving end of holiday jokes, many fruit cakes have a bad reputation. Not so at Swiss Colony. With a recipe that's been a family tradition for generations, the Christmas Fruit Cake is a holiday specialty packed with 76 percent fruit and nuts. Master pastry chefs have created the perfect balance of high quality fruit and extra large nuts both held together with a buttery rich batter.
"Our Butter Toffee and Christmas Fruit Cake are second-to-none," says Becky Henke, VP of Food at The Swiss Colony. "If any of our seven products with a Double Guarantee are not the finest you have ever tasted, simply return them for another item worth twice the price!"
Other crowd pleasers in this season's new product line up include:
The "Winking" Santa Torte ($22.95) makes a great holiday buffet centerpiece with a jolly hand-decorated face and flowing icing beard on layers of tender yellow cake, vanilla butter creme and strawberry filling that will serve 8-10 guests.
Another sweet treat is a box of petite Snowflake Cakes ($19.95) decorated in a snowy motif, covered in Swiss creme over vanilla cake or chocolate devil's food with layers of vanilla and chocolate butter cremes.
Kids will go crazy for a tin of Reindeer Food ($16.95) featuring sweet and crunchy rice cereal blended with chocolate and dusted with powdered sugar. If there's any left, remind them to leave some out for Santa and his reindeer on Christmas Eve along with cookies and milk.
All of Swiss Colony's bakery items are made in small batches with Wisconsin butter, real cream, whole eggs, high quality chocolate and cocoa, and other fresh ingredients. A majority of the ingredients are sourced in Wisconsin and throughout the Midwest.
These treats and more can be found online at http://www.swisscolony.com, in the hard-copy catalog and on Google catalogs. Find Christmas items by using the "Shop by Occasion" tab at the top of the website. Consumers can also "Shop by Price" or "Shop by Category" which makes searching for the perfect Christmas gift fast and easy.
Special offers are posted on the company's Facebook page at http://www.facebook.com/theswisscolony. For more updates, follow product news on Twitter @TheSwissColony.
About The Swiss Colony
The Swiss Colony is a family-owned Wisconsin company that has been creating food gifts for more than 85 years. The company insists on the highest quality ingredients for a large selection of festively packaged gifts for every occasion.