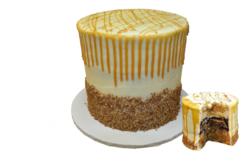 We consider ourselves memory makers who just happen to be bakers, and this unique concoction is certainly one that will create fun memories for those who enjoy it.
HOUSTON, Texas (PRWEB) November 28, 2012
Three Brothers Bakery is excited to offer local and national customers, alike, their now-famous Pumpecapple Piecake this holiday season. The enormous cake was created after a local food writer challenged the bakery to create something he'd never seen before. Three Brothers Bakery has a flair for baking unique treats, and consequently the piecake was born.
The unique dessert weighs in at 23.5 pounds, stands 11 inches tall and is estimated to be nearly 20,000 calories, or 2,000 for just one slice. This huge treat is typically priced at $235, but the bakery is offering customers the price of $175 as a holiday memory-making treat. Since its creation two years ago, the piecake has been featured on Food Network's Outrageous Food, and by Bon Appetit as one of the best Thanksgiving mail-order pies.
The Pumpecapple consists of several different Three Brothers Bakery award-winning pies and cakes, made completely from scratch. The first layer is a pumpkin pie, baked inside of a pumpkin spice cake. Next, the bakery's award-winning pecan pie, or their chocolate pecan pie, is baked inside of a chocolate cake. The top layer of the cake consists of award-winning apple pie, baked in a spice cake. Crème cheese icing oozes as filling between each of the three layers. The final product is garnished with pecan pieces, and finished off nicely with a generous drizzle of caramel.
"We've never made anything like the Pumpecapple Piecake before," bakery owner, Bobby Jucker said. "We're overjoyed to be offering our customers something so unique that incorporates so many of our customers' favorite desserts. We consider ourselves memory makers who just happen to be bakers, and this unique concoction is certainly one that will create fun memories for those who enjoy it."
The bakery will also be selling their coveted Hannukah treats, sufganiyot. These delicious fried donuts are traditionally fruit-flavor filled, but the bakery creates other variations including chocolate and custard crème filling. Sufganiyot are served at the bakery year round, and are a favorite Hannukah tradition for Jewish people everywhere, with Houston's community being no exception.
For more information regarding Three Brothers Bakery, the Pumpecapple Piecake and additional holiday treats the bakery provides during the months of November and December, as well as year round, please contact Jenny Selber at 713-416-7280 or jenny(at)integratepr(dot)com
###
About Three Brothers Bakery
The traditions of Three Brothers Bakery began in Chrzanow, Poland circa 1825, and continued to thrive despite the family's concentration camp imprisonment during the Holocaust. Their miraculous liberation, and subsequent move to Houston, brought Eastern European scratch baking traditions to 4036 S. Braeswood Blvd and 12393 Kingsride Lane, where the owners are now proud to call themselves "memory makers who just happen to be bakers." Perfecting the process for almost 200 years, each day the fifth generation bakers produce mostly dairy-free breads and pastries, cookies, a full line of specialty dessert cakes and pies, as well as custom birthday, special occasion, wedding and groom's cakes using only the highest quality ingredients.
The Three Brothers Bakery pecan pie was named "the best mail order pecan pie America has to offer" by Country Living magazine, and most recently, bakery owner, Bobby Jucker competed in the popular 'Food Network Challenge' and has been seen on Food Network's Outrageous Food. Three Brothers Bakery is a certified Woman-Owned Business through Women's Business Enterprise National Council, and a State of Texas Historically Underutilized Business.
Follow Three Brothers Bakery on Facebook and Twitter for Houston area news, information and events.