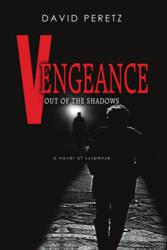 New York, NY (PRWEB) November 30, 2012
David Peretz, M.D. returns with the third in his series of Ross Cortese, NYPD detective novels: VENGEANCE OUT OF THE SHADOWS (October 2012). In successive weeks, two New York landlords have been shot to death, one in Central Park and one in Brooklyn. Are these the acts of a disgruntle tenant, a business rival or a serial killer? Ross calls on Detective Ruth Wilson, formerly a profiler with the FBI, to join the squad and to assist with the investigation. Will the killer strike again? If so, when and where?
Meanwhile, Doschenko, ex-KGB assassin, has been on the run from Interpol since Ross brought him down from near the pinnacle of power by foiling an attempted neo-Nazi coup in Vienna. Fulfilling a contract killing in Oman, Doschenko is given the green light to come to New York via Canada, for another assignment. It is the opportunity he has been waiting for—to revenge himself by inflicting maximum pain on Ross and those he loves.
This is a sampling of what reviewers said about THE MOSEL LEGACY and THE BRODERICK CURSE.
"A page-turner that goes straight to the heart and the conscience. Well paced, beautifully written, David Peretz is a welcome newcomer to the world of suspenseful fiction."
Ann Edwards, novelist and author of Streisand: A Biography
"On the surface, David Peretz's MOSEL LEGACY is an adventurous, plot-driven cop thriller, albeit one with an unusual degree of historical, political and psychological savvy. But the book's greatest triumph is the manner in which it seamlessly interweaves philosophical themes of justice, retribution, heritage and identity into the gripping narrative. In the end, MOSEL is a page-turner for the brain as much as for the heart."
Seth Rogovoy, The Berkshire Eagle
"The Broderick Curse is not one single story. It is several plot lines that weave in and out of each other. It is a page-turner to say the least. And like all great thrillers, there is a sting on the tail that I most certainly did not see coming."
Simon Barret, BNN
"…good pacing which turned into a page-turner at the end of the book complete with suspense and
unpredictability. He has put himself into the major leagues of detective fiction."
Dr. Michael Blumenfeld, Editor, Psychiatry Talk
Read about this latest book as well as THE MOSEL LEGACY and THE BRODERICK CURSE at
http://www.davidperetznovels.com , Amazon.com, BarnesandNoble.com
Dr. Peretz has been a practicing psychiatrist for more than forty years, on the faculty at Columbia University and often named to The Best Doctors in America. He was an early worker in the field of death, dying, and bereavement—at the bedside, and teaching, writing, and editing (co-edited fifteen books).