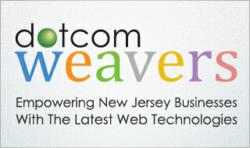 We are helping one local New Jersey business at a time.
Paramus, NJ (PRWEB) November 29, 2012
With the recent launch of a new website for Swing Set Paradise, New Jersey website design company, Dotcomweavers, continues on its mission to empower local companies by better equipping them do business online. Swing Set Paradise, a local, family-owned and operated swing set retailer was ready to expand its operation by taking its business online and reaching customers all across the United States. The company was in dire need of an e-commerce site that not only helped them sell new playground equipment, but provided other services as well. Their partnership with Dotcomweavers allowed them to receive a feature-packed, ecommerce capable website; complete with a kid-friendly design that appeals to both children and parents alike. Their new website now offers the best selection of quality playground equipment along with having the largest selection of used swing set listings and installation services on the internet.
Dotcomweavers designed and developed the website with many ecommerce driven attributes in mind, to fully enable Swing Set Paradise to easily sell their swing sets online. The website's shopping platform allows for differentiated product pricing and integrated shipping, in addition to the shopping cart. Moreover, Swing Set Paradise can also create individual product pages for their inventory. Each page displays unique product descriptions, pricing, specifications, installation instructions and requirements, and customer reviews; in addition to photos and actual videos displaying the swing set. As a result, customers can now get the complete picture of what they are buying, and have peace of mind once they make the purchase.
A "Find an Installer" area is also enabled on Swing Set Paradise. This section lists a several reputable swing set installers for all of the 50 states. Customers can now access a trusted list of installation experts. So not only can customers purchase a swing set from the website, they can also be put in contact with someone in their area who has the expertise and experience to install it for them. This makes the website a one-stop shop for all of their swing set shopping needs.
The new website features a classified section on the website for buying and selling used swing sets. This allows those looking to get rid of their swing set to still get value out of it, and gives new buyers to purchase good quality swing sets at reduced prices. This feature has enabled the website to become a sort of min-Craigslist for swing sets; with sections for listings available for all cities and states across the United States.
The NJ web developers at Dotcomweavers also included a variety of powerful search capabilities that allow shoppers to find the products they're looking for faster. The new website displays layered-navigation filters so that customers can quickly narrow down their product options, pinpoint exactly what they're looking for, and complete their purchases. Users are able to filter by swing set types and manufacturer. They also have the ability to sort the product selection by price and product name. Furthermore, the new website also features optimized pages for faster loading times. All of these features combined with the kid friendly web design from Dotcomweavers, has greatly improved the user experience on the website; which is now translating into happier customers and high conversion rates.
The robust content management system (CMS) that the site is built on is one of the trademarks that Dotcomweavers offers to its clients. The CMS makes it easy to update content to the website efficiently and with no need for a dedicated web administrator. Swing Set Paradise can easily add, edit, and update the content on their website within minutes. Moreover, they also now have the capability to customize and refine their website without any in-depth technical knowledge. With just a few clicks, Swing Set Paradise can customize the look, feel and functionality of their online store to meet their unique specifications. With the new CMS they can now extend and refine their site as they continue to grow and their online needs evolve.
The website also features a content packed resource section. To further assist their customers, the website features a "tips for buying used swing sets" section, informing users how to go about purchasing a used swing set and what to look out for. There is also a swing safety tips section that lists the best practices for swing set installation, maintenance, and usage guidelines. Lastly, there is also a "Frequently Asked Questions" area that helps address the questions, issues, and concerns that customers may have.
Dotcomweavers also included a blogging platform that provides a good source for recurring visits. The blog content provides visitors with fresh new content, keeping them updated on the newest swing sets available and displaying photos of the latest installations. Additionally, there is a customer showcase section, where customers can post photos of their own swing set installation to provide ideas for others.
About Swing Set Paradise
Swing Set Paradise is a New Jersey based, family-owned and operated swing set retailer providing customers with the best playground equipment from the most reliable manufacturers in the market today. They offer the best selection of quality playground equipment along with having the largest selection of used swing set listings and installation services on the internet; in addition to free or low cost shipping on nearly every item they stock.
About Dotcomweavers
Dotcomweavers Inc. is a Paramus, New Jersey-based web development company that focuses on advancements in Internet technology to provide attentive service and solutions for cutting-edge businesses in New Jersey and New York: web development, website design, e-commerce and internet marketing (SEO).
Visit http://www.dotcomweavers.com or call (888) 315-6518 for more information about New Jersey website design and web development services provided by Dotcomweavers.