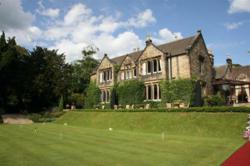 Make it a country house Christmas this year in beautiful Derbyshire.
Peak District, UK (PRWEB UK) 29 November 2012
'Make it a country house Christmas this year in beautiful Derbyshire, by choosing the East Lodge Country House Hotel,' invites the award winning team at the AA Inspectors Red Star Hotel in the Peak District.
With a deliciously decadent Christmas period menu just announced, the team at East Lodge promise to tease and tantalise their guests' taste buds with local seasonal produce cooked to perfection.
'Our Christmas break packages are designed to create a modern dining experience in our award-winning restaurant,' explains a spokesperson for East Lodge. 'We invite and welcome our guests with warmth and courtesy as we begin the festive celebrations on Christmas Eve. It all begins with afternoon tea served in the garden room bar and then from 7pm, we all join together for an informal cocktail reception, with canapés and a chance to meet fellow guests or to have some peace and quiet in a romantic setting.'
Set in 10 acres of stunning Derbyshire countryside, East Lodge has just 12 luxury bedrooms, making it large enough to feel like a luxury hotel, but small enough to know every guest is pampered individually and nothing but the best is offered for all, in the extremely comfortable surroundings with a warm and welcoming ambience.
'On Christmas morning, breakfast is served from 8am, and the beautiful morning service is available at our village church if you so wish. Or maybe you would like to simply stroll through the grounds and survey the scenery? Then it will soon be time to warm up with winter Pimms in the bar, before the traditional, and mouth wateringly scrumptious, six course dinner we have planned.'
To be wined and dined this Christmas in a famous country house, where the relaxing sound of the countryside is clearly an integral part of the holiday ambience, it's clear to see why East Lodge was recently awarded the Reader's Choice, in the Conde Nast Johensens hotel awards, to add to their already impressive accolades.
The style and charm from this gorgeously situated Derbyshire hotel emanates from the interior with a very warm glow, and not just from the delicious hot mulled wine. It radiates from the mannerisms and expertise of the polite professionals, who cater for their guests every whim. The 12 luxury rooms are all individually furnished and have their own distinctive personalities, including a room on the ground floor with full facilities for the disabled and even a room with a reputed ghostly guest - friendly of course.
All the luxury bedrooms are fully ensuite, complete with facilities a guest would expect for a relaxing overnight stay, including colour TV with all Sky satellite channels to watch Christmas movies and relax, before being treated like royalty downstairs at the award winning restaurant.
'We believe that a holiday or short break should about rest,' they say, 'allowing you to unwind, to absorb the very distinct local flavour and enjoy an atmosphere of quiet complementation and feeling of wellbeing. Let us lull you into that wonderful sense of relaxation and the glow of warmth that only a satisfying day, followed by an exquisite meal can bring.'
Peruse tantalising Christmas break offers at http://www.eastlodge.com and imagine a Christmas break with a difference, in one of the leading Derbyshire Houses set in glorious surroundings.