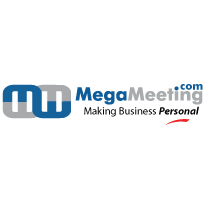 Coming across MegaMeeting.com was random luck. Having the ability to reuse meetings over and over instead of having to recreate a meeting each time is why we decided to switch
Los Angeles, CA (PRWEB) November 29, 2012
Automation-X, a leading global supplier of automation technology products knows firsthand the importance of adding a personal touch to daily business meetings and communication. With seven offices spread out around the United States and one international office, having a way to instantly communicate and collaborate is a fundamental part of doing business.
Automation-X recently began using MegaMeeting.com's web-based video conferencing platform to stay connected with their many teams across the world. Prior to implementing MegaMeeting.com, the staff at Automation-X used a different video conferencing vendor to conduct their daily company meetings. According to Mike Harris, COO of Automation-X, "Coming across MegaMeeting.com was random luck. Having the ability to reuse meetings over and over instead of having to recreate a meeting each time is why we decided to switch."
Automation-X has implemented MegaMeeting.com to increase productivity in the many departments throughout the company. MegaMeeting.com is being used to conduct sales demonstration, seminars, company meetings, sales meetings, client trainings, quality assurance and to diagnose product issues. When asked to provide details as to what MegaMeeting.com features are being used the most at Automation-X, Harris went on to say "We use MegaMeeting.com to hold meetings several times a day. The video adds a more personal touch to remote meetings and the static meeting rooms allow us to meet in virtual rooms without the need for end users to set anything up or email out links. We simply say 'meet in meeting room one in twenty minutes' and everyone knows where to go."
About MegaMeeting.com (http://www.MegaMeeting.com)
Founded in 2003, MegaMeeting.com is a leading provider of 100% browser-based web & video conferencing solutions complete with real time audio and video capabilities. MegaMeeting.com is a completely browser-based solution that works on all major operating systems – Windows, Mac & Linux as well as iPhones, iPads and Android enabled tablets or mobile devices. MegaMeeting.com provides universal access without the need to download, install or configure software. Their web conferencing products and services include powerful collaboration tools that accommodate robust video & web conferences, including advanced features such as desktop/application sharing, i.e. Word and Excel documents and PowerPoint presentations without the need to upload any files. MegaMeeting.com is ideal for multi-location web based meetings, virtual classrooms, employee trainings, product demonstrations, company orientation, customer support, product launches and much more.
For more information please visit http://www.megameeting.com or call (818) 783-4311.