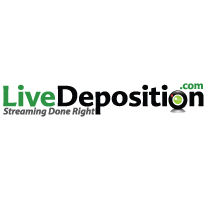 We are excited to roll out LiveDeposition.com's latest update and feel that by incorporating a service like Dropbox into our product, users will benefit even more from its convenience and flexibility.
Los Angeles, CA (PRWEB) November 29, 2012
LiveDeposition.com, a global provider of realtime deposition streaming technology, has released an update to their web-based product that provides attendees and legal teams with a way to instantly and securely share exhibit files and documents through Dropbox.
"LiveDeposition.com was created to simplify the deposition process and provide legal teams with a stress-free way to attend depositions" stated Steven Genter, Director for LiveDeposition.com, "We are excited to roll out our latest update and feel that by incorporating a service like Dropbox into our product, users will benefit even more from its convenience and flexibility."
As a completely web-based solution, LiveDeposition.com allows legal teams to view and participate in realtime depositions from any location without the hassle of downloading or installing software. With LiveDeposition.com, video can be streamed using any conventional web-cam, making connections instant, simple and powerful.
In February of 2012, LiveDeposition.com released RealTime Exhibits, which gives participating parties a way to introduce exhibit files directly into a streaming deposition. The Dropbox integration expands upon the RealTime Exhibit feature by allowing participants to access their files wherever they are located. Genter went on to say, "One of the main benefits to the Dropbox integration is that it makes exhibits non-partial and available to all legal counsel or team members regardless of them being present in a LiveDeposition.com streaming environment."
In order to use the Dropbox integration from within LiveDeposition.com, users will need to manually grant access and provide the LiveDeposition.com software with authorization to log in to their Dropbox account. Once this one-time authorization is completed, LiveDeposition.com then creates and places a folder named LiveDepoShare in the users Dropbox account. The Dropbox integration only has permission to access this specific folder and automatically adds the files located in the folder to the file sharing box within LiveDeposition.com's program. From there, deposition participants have the choice to instantly preview the file(s) or download the file(s) for further collaboration.
About LiveDeposition.com
Headquartered in Sherman Oaks, CA, LiveDeposition.com is powered by MegaMeeting.com; a long time resident of the video and web conferencing industry. Through their cutting-edge technology, LiveDeposition.com provides the Legal Industry with web-based deposition and video conferencing solutions. Being exempt from typical download and installation requirements, LiveDeposition.com has proved itself to be a hassle-free way to stay connected, allowing court reporting agencies, court reporters, paralegals, industry experts and legal teams to streamline the litigation process and conduct real-time depositions and online meetings. LiveDeposition.com offers mobile apps for iOS and Android users, making its state-of-the-art solutions easily accessible via iPhones, iPads, as well as all Android enabled tablets and smartphones.
For more information on LiveDeposition.com please visit http://www.livedeposition.com or call 888.337.6411.