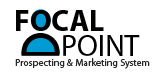 Piscataway, NJ (PRWEB) November 30, 2012
FocalPoint, an online prospecting and marketing system used mainly by network marketing and direct sales organizations, sees more of its clients promoting the use of site replication to draw in more distributors. The FocalPoint creative and development teams create a replicated version of the client's customized website and make it available to all of the client's members; the members then use their site to build a group of new distributors and customers.
FocalPoint is used as an MLM lead system that employs landing pages with contact forms. Form submissions then populate the system's contact management database. Each new contact – prospect, lead, etc. – is assigned a category based on the form submission. The system starts sending a series of client-customized autoresponder emails to these new contacts in the hope that they in turn purchase the product offering or join the business opportunity.
More companies are seeing the advantages of replicated websites and the automated sales funnel the system provides and they in turn are increasing their distributor base by advertising that this system is available for each of their distributors to use. The client benefits by having its sales and distributorship grow and the distributors benefit by having their sales, down-line, and commissions increase.
The up-front cost to the parent company is minimal when compared to the potential growth the system affords their business and the cost to each distributor is a bargain compared to the growth potential it presents.
About FocalPoint
Founded in 1992, FocalPoint caters to the needs of Direct Sales Companies, Network Marketing Teams, and MLM Organizations. During its twenty year tenure, FocalPoint has provided businesses with some of the most innovative tools including replicated lead capture pages and presentation sites that allow their distributors and team members to succeed.