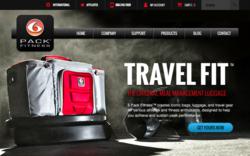 San Francisco, CA (PRWEB) November 28, 2012
6 Pack Fitness has built a reputation for delivering incomparable meal management systems that meet the distinct needs of fitness enthusiasts everywhere. Now, the company behind the DURUS 6 Pack Bags is bulking up its web presence with a brand new website.
The new and improved 6PackBags.com features an online store and extensive information on the company's popular product line, including inside views of each bag, product specifications, and guides on how to care for a 6 Pack Bag. The new site also includes a 6 Pack Fitness blog, which will offer an expansive look at the extreme fitness lifestyle. Diet profiles and training tips, as well as features on bodybuilders, crossfit athletes, and workout enthusiasts will comprise the forthcoming content.
With a fresh website and growing reputation, 6 Pack Fitness continues to lead within the athletic community. Stay tuned to 6PackBags.com for new 2013 product lines, exclusive blog content, and information on the brand's new affiliate program, which will offer fans the opportunity to earn money for promoting their favorite 6 Pack Bags.
For all this and more, visit the new 6PackBags.com.