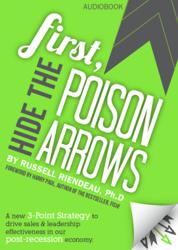 This program is a fascinating lesson on how to use deductive reasoning and rehearsal to become a highly-paid sales and management executive in a complex world.
Barrington, IL (PRWEB) November 29, 2012
What Would Sherlock Holmes Learn About Us In Seconds?
Two people meet for the first time. They shake hands and sit down in the restaurant. They put keys, sunglasses, portfolio, pen and cellphone on the table, and begin a conversation. Talk ranges from weather, finding a parking spot, last night's game, the debates, etc.
Within seconds, one person feels like they've known this person forever. They "click" with the person. Why? Because one of the two people was trained in how to scan for clues.
Dr. Russ Riendeau, senior partner of East Wing Search Group and developmental psychologist, introduces rare skills and behind the scenes secrets of highly-paid sales and management professionals in a unique audiobook program. With over 27 years of executive search experience and research on selling psychology, the author delivers a 3-point strategy for driving sales and leadership effectiveness by adding dynamic listening skills, question formulation to find the tension point, and delivering a more heightened sensory presentation to prospects.
Bestselling author, Marshall Goldsmith, said: This program is a fascinating, creative lesson on how to use the science of "deductive reasoning and rehearsal" to become a highly-paid sales and management executive in a complex world. Sherlock Holmes, meet Russ Riendeau.
Research shows over 70% of corporations have not provided updated sales training in the past three years. With training budgets slashed and managers already stretched too thin, the need for easy-to-implement, inexpensive sales training is at code red priority. Audiobook learning is one of the best way to deliver training effectively and with minimal cost for big returns.
Here are some examples the author suggests to become more observant.
1. Listen/ Look/ Learn: Prepare questions that encourage the other person to reveal more about their world: Where did they drive from? What did they do this morning? Anything exciting happen to them this past week? What did they think about the debates? Good questions are better than great answers.
2. Scan for clues in front of us: What keys do they have? What kind of car? Swipe tags, lucky charms, pictures, mailbox keys, fobs, knives? What kind of pen? Expensive? Clothes, glasses? Are they designer brand? Shoes, tie?
3. What kind of cell phone? Is the screen loaded with apps? All these clues give a summary of their tastes, influencers, level of technology they use, style and status of other people they interact with, even where they live. These clues give hints to what questions and topics that may resonate with them.
4. Do they keep checking their phone? Is the ring silenced? Who is looking for them? Why? Are they distracted or under a deadline? How long do they have to meet with you? What kind of ringtone? Why did they choose that tone? What does it mean to them?
5. The above clues give hints to the income level they're at. If we believe they're earning over 100k, based on their gadgets and dress, we can deduce they're formally educated thus our choice of words, references, type of analogies and TV programs discussed should be more sophisticated and relevant to their demographic.
6. Wedding rings, college rings, watches. Are they married? No ring, doesn't say divorced and a wedding ring doesn't guarantee they're still married. Do they talk about family, are their pictures on their home screen of their iPhone? What college logo is on the other ring?
7. Do they have pets? Is there dog, cat, or horse hair on their jacket? Allergic to cats—are people starting to sneeze. What color are the hairs, the length? What is a potential breed? Can we create a question to inquire about pets without disclosing the clues? No hair, no pet? Why no pets?
8. Do they smoke? Smell nicotine after shaking hands? How much time do before they're starting to feel the urge for a smoke break?
9. Hands? Manicured and neat? Rough, weathered? Strong handshake? Do they have a hobby that requires strength or working with sharp, rough objects? Are there callouses on their left hand? Are there visible cuts, scraps or band aids on their fingers? Is there paint under their fingernails? And so on.
Deductive reasoning is a powerful tool used by the highest paid sales people in the world.
Russ Riendeau, PhD, First, Hide Poison Arrows: A new 3-point strategy to drive sales and leadership effectiveness in our post-recession economy (Eyecatcher Press 2012, $6.95). Available on Amazon. He is also senior partner of an executive search practice, East Wing Group, Inc. Russriendeau(at)gmail(dot)com.