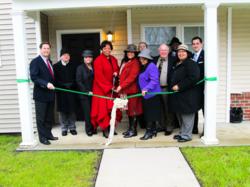 This development is the latest investment in the neighborhood to move Camden forward
Camden, NJ (PRWEB) November 29, 2012
City, state and federal officials joined community leaders and residents November 27 to mark the continuing revitalization of one of Camden, NJ's most historic areas with the grand opening of Morgan Village, a new 40-unit rental townhouse community serving low and moderate income families in the Morgan Village neighborhood of South Camden.
The $12.6 million community, which benefited from more than $6.5 million in stimulus funding from the U.S. Department of Housing and Urban Development, is the latest milestone in an ambitious strategy undertaken by the city and the Housing Authority of the City of Camden (HACC) to revitalize a neighborhood once blighted by neglect.
"Morgan Village is the latest testament that the city is committed to making a difference and improving the quality of life for all of our residents," said Dr. Maria Marquez, HACC's Executive Director. The Housing Authority led the development effort, along with its private sector partner, The Michaels Development Company.
Already 100 percent occupied, Morgan Village offers spacious, energy-efficient apartments available in one, two, three and four-bedrooms, to families earning less than 60 percent of the Area's Median Income as well as public housing residents. Five units are reserved for residents with special needs. In addition to the quality housing, Morgan Village will also offer supportive services to its residents, including educational and job training programs.
"The City of Camden is committed to the revitalization of South Camden and the Morgan Village Neighborhood, and this development is the latest investment in the neighborhood to move Camden forward," said guest of honor, Mayor Dana Redd. "I thank all our partners for working together to make this project a reality for our residents."
Both Mayor Redd and State Senator Donald Norcross attended the ribbon-cutting ceremony and both praised the Housing Authority and Michaels for its commitment to hiring Camden residents during the community's construction phase. More than 50 good quality jobs were created, including jobs for locally-based Minority- and Women-owned businesses.
Community partnerships have been a critical aspect to the ongoing revitalization efforts in Camden and Morgan Village neighborhood residents, the city, and the Morgan Village Circle CDC all worked closely with the Housing Authority and Michaels Development on the community's planning.
"We have made so many good friends and partners in Camden and we look forward to being a part of this community, and being good stewards of this community for the next 30 years and beyond," said Kristina Vagen, who served as Michaels' program manager for the development. The community will be professionally managed by Interstate Realty Management Company, which will ensure it remains an asset to the neighborhood for years to come.
In addition to the federal stimulus grant, funding for Morgan Village included equity raised from the sale of federal Low Income Housing Tax Credits and tax-exempt bonds issued from The New Jersey Housing and Mortgage Finance Agency as well as special needs funds from NJHMFA and affordable housing program funds from the Federal Home Loan Bank.
About the Housing Authority of the City of Camden
The Housing Authority of the City of Camden has been serving city residents since 1938, when its first development, Westfield Acres opened with 514 units to meet "household needs". Today Camden Housing Authority serves over 5,000 residents annually. Our holdings have grown to include 13 family sites, four high-rises for seniors and the physically challenged, a homeownership development and we are the proud recipients of three HOPE VI awards.
About The Michaels Organization
The Michaels Development Company and Interstate Realty Management Company are part of The Michaels Organization, a family of eight integrated but independent companies dedicated to excellence in affordable, mixed-income, military, and student housing. Our mission is to create attractive residential communities for families, seniors, military service members, and students that stand the test of time and that are managed to maximize long-term value for residents as well as investors. Serving more than 100,000 residents in 340 communities across 33 states, the District of Columbia, and the U.S. Virgin Islands and with a development portfolio valued in excess of $3 billion, The Michaels Organization is a national leader in the residential real estate industry, with full service capabilities in development, property and asset management, construction, mortgage finance, and tax credit syndication. Visit http://www.TheMichaelsOrg.com for more information