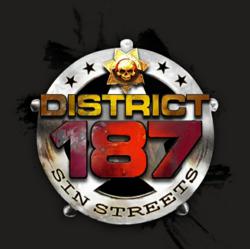 El Segundo, Calif (PRWEB) November 28, 2012
CJ Games Global (netmarble.com), today announced it is bringing the recently launched first-person-shooter (FPS), District 187: Sin Streets to Steam. More than 54 million active players across the Steam Network will have access to the competitive FPS. Players can sign up for a Steam account to download District 187: Sin Streets for free at: http://store.steampowered.com/app/221080/
"Steam is the most powerful online game platform in the world and our agreement with Valve for global distribution allows us to provide players with easy access to District 187: Sin Streets," said Jina Song, COO of CJ Games Global. "This is just the beginning of our long-term partnership with Valve, so watch for our upcoming CJ Games Global titles to launch on Steam."
After officially launching last week with a major content update, hundreds of thousands of players have entered District 187: Sin Streets. More than 1,000 competitive clans have formed, giving the game credit as an action-packed PvP masterpiece.
To commemorate the launch of this partnership, CJ Games Global has launched a new trailer for District 187 which can be viewed on Steam or on the CJ Games Global YouTube page.
About District 187: Sin Streets
Set at the end of the 21st century - after the collapse of the world economy - District 187: Sin Streets features cut throat, urbanized warfare in a player vs. player environment. Game play matches vigilante SWAT agents against ruthless gang members.
To receive up-to-date information on District 187: Sin Streets, follow:
Facebook: 'Like' and Comment at facebook.com/CJDistrict187
Blog: Get the latest details on District 187 on the game blog: district187blog.com
YouTube: Check out the latest trailer at: youtube.com/CJGamesGlobal
Twitter: Follow us on Twitter at: twitter.com/CJGGDistrict187
Forums: Join the community: forum.netmarble.com
About CJ Games Global
CJ Games Global Corp. is the U.S. subsidiary of CJ E&M Game Division established in 2012. Supported by its development studios in Korea, CJ Games Global aims to publish online games on PC and mobile devices in North America, South America and Europe. The company services its players through its game portal http://www.Netmarble.com.
About CJ GameLab
CJ GameLab is a development studio of CJ E&M Game Division, headquartered in Seoul, South Korea. CJ GameLab is a free-to-play online game developer, with current titles including first-person-shooters (FPS) District 187 and Hounds and its strategic web browser title, Kingdoms.
About Steam
Steam is a leading platform for the delivery and management of PC and Mac games with over 50 million accounts around the world and over 2,000 titles offered.
###