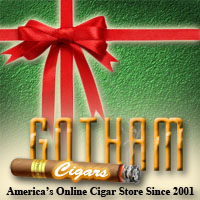 "Paypal wants to put more happy in your holiday!"
Miami, FL (PRWEB) November 30, 2012
November 30, 2012 - This Holiday season, Gotham Cigars has partnered with PayPal to offer their customers a Bill Me Later option on their purchases. Gotham Cigars has been America's leading online cigar store since 2001. Gotham is always trying to find ways to get their customers the best prices and offers for cigars on the market. Giving their customers the option to check out with PayPal using Bill Me Later on their purchases is another great way Gotham Cigars helps get their customers the best deal.
"Paypal wants to put more happy in your holiday!" said a spokesperson for PayPal. With Bill Me Later, customers will receive price matching, free return shipping and more time to pay for their orders. Don't want to wait for a sale? Then don't! With Bill Me Later if you find your item advertised at a lower price within 30 days of your purchase, Paypal will refund you the difference. Need to return an order? Not a problem with Bill Me Later, even if the retailer doesn't cover returns, PayPal will. Paying with PayPal and using Bill Me Later will grant you 6 months of interest free financing on qualifying purchases of $99 or more.
Gotham offers one of the largest collections of high quality cigars, humidors, premium lighters and E-Cigarettes in the entire US. They showcase and sell almost all the major and high quality brands. These cigars are divided into categories like machine made cigars, premium cigars, filtered cigars and little cigars. At Gotham, cigar lovers can get the freshest products at unbelievable prices. Their selection of premium cigars consists of more than 150 different styles and brands and over 30 different brands of machine-made cigars. Gotham Cigars has been a trusted E-tailer for high quality discounted cigars since 2001, and is always looking for rock bottom prices and great deals to offer their loyal and first time customers.
About Gotham Cigars:
Gotham Cigars has been America's leading online cigar store since 2001. They offer a massive inventory of superior traditional cigars, affordable flavored cigars, highly ranked sticks from Cigar Aficionado, and daily deals. This allows customers to try some of the best cigars on the market at rock bottom prices. Gotham is a division of a larger nationwide wholesale tobacco company, which is why they are able to carry a sizable inventory. To find out more log on to http://www.gothamcigars.com.