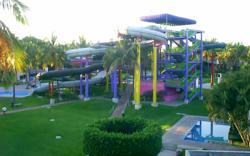 It is not a good business practice to buy an attraction that will not increase your operational costs equally to your income.
JALISCO, MEXICO (PRWEB) November 30, 2012
Aqua park operators know that the success of their facility relies on the excitement of the water attractions they offer. But when it comes time to add a new water slide or aquatic attraction, how do you choose which one is right for your particular theme park?
Having a good mix of attractions is the first step, according to Alejandro Mestas Gonzalez, International Sales Manager for Fibrart, a waterslide manufacturer with headquarters in Jalisco, Mexico.
"Usually every water park has basic attractions, such as regular pools and kids pools," Gonzalez explains. "Complementary to these basic elements, other attractions are added. It is important to consider some factors while deciding the kind of attraction to be added."
First of all, he says, you need to decide what is the reason or intention of adding a new aqua park attraction. What problem will it solve or what benefit will it give? Then, focus on four primary considerations:
The Objective/Purpose of New Water Attractions
If your current attendees spend too much time waiting in line for the attractions you already offer, or your pools are overly crowded, then you need to select an attraction that entertains a lot of people at the same time or has a high user flow. Gonzalez says examples of high-capacity rides like these include wave pools, leisure rivers, inner tube slides and multilane slides.
To get the most value out of these offerings, consider adding one of these attractions that are "showy" and naturally attract attention among waterpark enthusiasts and the press. Installing new attractions such as bowl rides, "black hole" rides and extreme slides give aqua park visitors something to which they can look forward and position your park as a leader in aquatic entertainment facilities.
Your Aqua Park Market
Gonzalez says that the characteristics of your clients also should be paramount in how you choose the attractions you select. For example, what are your primary clients' needs and expectations, he asks. Does your park offer mostly family attractions or extreme attractions? Focus on providing new aquatic attractions that meet your current guests' interests.
If you attract mostly families, consider adding a new attraction such as a kids' water play area, open or enclosed body slide, inner tube slide, leisure river, wave pool or multilane racer. If you attract primarily teens and young adults, consider new attractions such as a high-speed or free-fall slide, bowl slide, various multilane racer slides, a river with waves or a surf pool.
Investment Cost of Aquatic Attractions
The cost of a new water park ride is generally high, Gonzalez points out. So you need to anticipate that you will spend a large amount of money upfront. Take care to explore your options to ensure you make the right choice for your facility. One way to do this, Gonzalez explains, is to make sure you actually experience for yourself what the attraction you are considering offers. Don't simply look at photos or conceptual drawings.
If you are looking at a new water slide, for example, then riding the slide will help you:

Understand the emotions and excitement that your visitors will experience.
Judge the safeness of the slide.
Understand and identify the engineers' design guidelines.
Water Ride Operation Costs
The operation costs of some attractions are higher than others due to electricity and maintenance, among other factors. Consider these aspects before you select your new aqua park attraction, Gonzalez suggests. "It is not a good business practice to buy an attraction that will not increase your operational costs equally to your income," he explains.
Taking each of these aspects into consideration is equally important in ensuring you make the right decision for your park, Gonzalez says. "You must consider them all to choose the best alternative for your park."
ABOUT FIBRART: Fibrart is a leading manufacturer of water slides, fiberglass flumes, inner-tube slides, thrilling free-fall and high-speed water slides, kids play areas for theme parks, and fiberglass figures for theme parks and wave pools. The company also provides technical support for the construction and design of water parks, water theme parks, waterpark development, aquatic parks, water park facilities and other aquatic attractions.
Fibrart, S.A. de C.V.
Carr. a Barra de Navidad Kilometro 11
Camino a la Pila 100
45730 Acatlán de Juárez, Jalisco
México
http://www.fibrart.com.mx
+52 (387) 778-1158
+52 (387) 778-1267
+52 (387) 778-1292
+52 (387) 778-1215
+52 (387) 778-1308
Alejandro Mestas
International Sales
sales(at) fibrart (dot) com (dot) mx
Aaron Silva
Domestic Sales
ventas(at) fibrart(dot) com (dot) mx