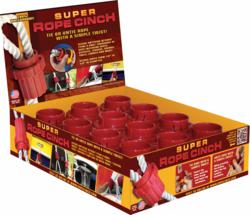 Super Rope Cinch is the perfect stocking stuffer for the outdoors person in your life.
Rapid City, SD (PRWEB) November 29, 2012
The Super Rope Cinch device that ties and unties rope without using a knot, a favorite with outdoors people, will soon arrive at all thirty one Runnings retail locations in Montana, North Dakota, South Dakota and Minnesota Stores just in time for Christmas 2012. The award-winning rope securing device has become a favorite with men, women and children since it replaces the need for tying and untying knots. The Super Rope Cinch is expected to be a big hit as a stocking stuffer for Christmas 2012 due to its small size and low retail price of under $5.
Runnings, who operate thirty one retail locations has always been synonymous with carrying new and innovative products, Started as an automotive supply store in December 1947, Runnings has spread out across the Northwest, and become a favorite place to purchase both hardware and automotive supplies.
The Super Rope Cinch device splashed into retail stores earlier in 2012, and was recently accepted by retail giants Wal-Mart and Home Depot. The simple device is commonly used for securing boats, cargo, tents, luggage, camping goods, loads on trucks, and even small aircraft. In addition to selling at retail stores, the patented Super Rope Cinch has also become a favorite fundraising tool for the Boy Scouts of America.
The following Runnings retail locations are expected to have the Super Rope Cinch in stock early December, just in time for Christmas:
MINNESOTA
Benson, Canby, Hutchinson, Marshall, Montevideo, New Ulm, Red Wing, Redwood Falls, Springfield, Willmar, Windom, Worthington
MONTANA
Baker, Glendive
NORTH DAKOTA
Bismark, Carrington, Dickson, Hettinger, Mandan
SOUTH DAKOTA
Aberdeen, Brookings, Gregory, Huron, Milbank, Mobridge, Parkston, Pierre, Rapid City, Watertown, Winner
To learn more about the Super Rope Cinch and find a retail location near you, visit http://www.SuperRopeCinch.com.