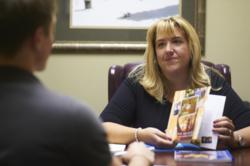 I am confident that the students who complete this program will significantly improve their ACT scores and their future opportunities.
Harrogate, Tenn. (PRWEB) November 30, 2012
Lincoln Memorial University (LMU) has launched a new initiative aimed at improving ACT scores of high school students in its immediate service area in the Appalachian region. The initiative is a partnership between LMU's Carter and Moyers School of Education and Knoxville-based QualPro, Inc.
LMU alumnus Dr. Charles Holland, founder and CEO of QualPro, has used his multivariable testing (MVT®) process to identify elements of a program that can be used to improve the ACT scores of students in Appalachia and beyond. The elements of the program include: teaching key vocabulary words that are often on the ACT tests and that Appalachian students have historically had trouble comprehending; teaching key math concepts that Appalachian students have historically had trouble with; teaching an effective test-taking strategy for the science reasoning and reading tests; and giving the students multiple practice tests and reviewing the results with them.
Holland has tested his program with two groups of East Tennessee students. The first test included students from several area high schools and lasted 12 sessions. The average composite score improvement was 3.7 points. The second test was with a group of students from a single Knoxville-area high school and involved four sessions. The average composite score improvement was 1.75 points. The impact that this program could have for students in Tennessee is tremendous. For example, a two- to four-point improvement would make a student with an initial score of 18 or 19 eligible for the Tennessee Hope scholarship, worth up to $4,000 at four-year institutions and $2,000 at two-year institutions.
"I have been saddened that many East Tennessean students do not qualify for the lottery money scholarships because of poor ACT scores. Appalachian students are leaving money and opportunities on the table with these low test scores," Holland said. "I have been interested in using QualPro's MVT® Process to improve ACT scores for several years. It was enlightening to see the data that eventually led to the design of this program. I am confident that the students who complete this program will significantly improve their ACT scores and their future opportunities."
"Though the initial study was completed on a small sample, the improved test scores should be enough to turn anyone's head," said LMU Chairman Pete DeBusk. "Historically students from the Appalachian region have had a disadvantage when it comes to national standardized tests. There are just certain vocabulary words that are not taught or used in this region and those words could be all that are keeping our brightest students from achieving their dreams. Chuck's research has given us a blueprint for what we can do to better prepare these students to succeed."
LMU has taken Holland's initial program and developed an online prep course and workbook that will be available to students within a 100-mile radius of the University. The program will be available beginning December 1. Additionally, students who complete the program will earn one college credit. LMU is providing the program free of charge to all participants.
"We have to level the playing field for our students," DeBusk said. "It is certainly within LMU's mission to make this prep course available to all prospective college students."
The University is currently recruiting high school juniors to be part of a pilot study of the online course and workbook. The students in the study will be asked to register for the program and take a benchmark practice examination at either LMU's main campus or the LMU-Cedar Bluff location (421 Park 40 North Blvd.) in Knoxville. Following the initial practice exam, the students will complete the online program and a second practice exam will then be administered at LMU's main campus. QualPro will then analyze the scores, comparing the results.
"LMU's new ACT initiative is timely and necessary in an increasingly competitive academic environment," said Dr. B. James Dawson, president of LMU. "This initiative shows the dedication of alumni such as Pete DeBusk and Charles Holland, who are finding new and innovative ways to meet the University's mission while raising our profile on the national stage."
Holland developed QualPro's MVT® Process while leading efforts to solve a critical problem in a vital nuclear weapons plant during the height of the Cold War. He went on to found QualPro at the urging of quality guru W. Edwards Deming. Over the last twenty-seven years, QualPro consultants have assisted clients in implementing MVT at over 1,000 companies including many of the Fortune 500. QualPro consultants have also implemented MVT to improve LMU's student recruitment and fundraising efforts. Holland earned a bachelor's degree in mathematics from LMU and furthered his education with a master's degree in mathematical statistics from Florida State University and a doctorate degree in management science with an applied statistics emphasis from the University of Tennessee.
LMU was founded in 1897 as a living memorial to the 16th President of the United States, Abraham Lincoln, and its primary mission is to serve the underserved people of the Appalachian region. The initiative comes at a time when the University is focusing increased attention on higher admissions standards and academic excellence, including LMU's new Honors Scholars Program, which began in the fall. The academic program for high-ability students includes honors courses, an honors thesis project with faculty mentor and learning through service.
Lincoln Memorial University is a values-based learning community dedicated to providing educational experiences in the liberal arts and professional studies. The main campus is located in Harrogate, Tennessee. For more information about the undergraduate and graduate programs available at LMU, contact the Office of Admissions at 423-869-6280 or e-mail at admissions(at)lmunet(dot)edu.