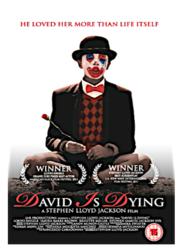 In this day and age of recession and less investments going into indie film projects, independent filmmakers need to be entrepreneurs as well as artists, otherwise we'll be left out in the cold
London (PRWEB) November 30, 2012
David Is Dying is now available on DVD throughout the world exclusively through Amazon and its subsidiary company, Createspace.
SAR Productions, the UK independent film production company who produced the multi award-winning movie, is making headway in the international movie industry by consolidating its distribution arm with Amazon to distribute its latest movie through its online platform.
Founder and CEO of SAR Productions, Stephen Lloyd Jackson, states; "The old model of distribution is on its way out. Well, at least for indie budget movies. With technology at the forefront in how films are produced, marketed and distributed, a company like Amazon, with its reliable fulfilment services, makes them an ideal collaborator with the indie film movement."
Amazon is one of the most popular online shopping sites in the world. The website started off in 1995. Since then, Amazon has built a digital content business, which it supports with its own range of digital media consumption devices.
Although SAR Productions intends to release their next two feature films, part of the 'sex and race' trilogy, through Amazon and SAR's soon to come online store, this daring, but innovative production company is aware that considering affiliate association with other leading and major TV and cable networks is always on the cards.
Furthermore, SAR will soon be taking up some of the Pay and Free TV offers from other markets like Africa and Asia.
Jackson believes that self-distribution is the key and right direction for the 'SAR' brand. "In this day and age of recession and less investments going into indie film projects, independent filmmakers need to be entrepreneurs as well as artists, otherwise we'll be left out in the cold".
'David Is Dying' is available on DVD to purchase in the USA and Transatlantic region through Createspace.com. In addition, 'David Is Dying' is also available to purchase on DVD in the UK, Europe, Asia and African region through Amazon.co.uk.